2.35: The Cactus Flower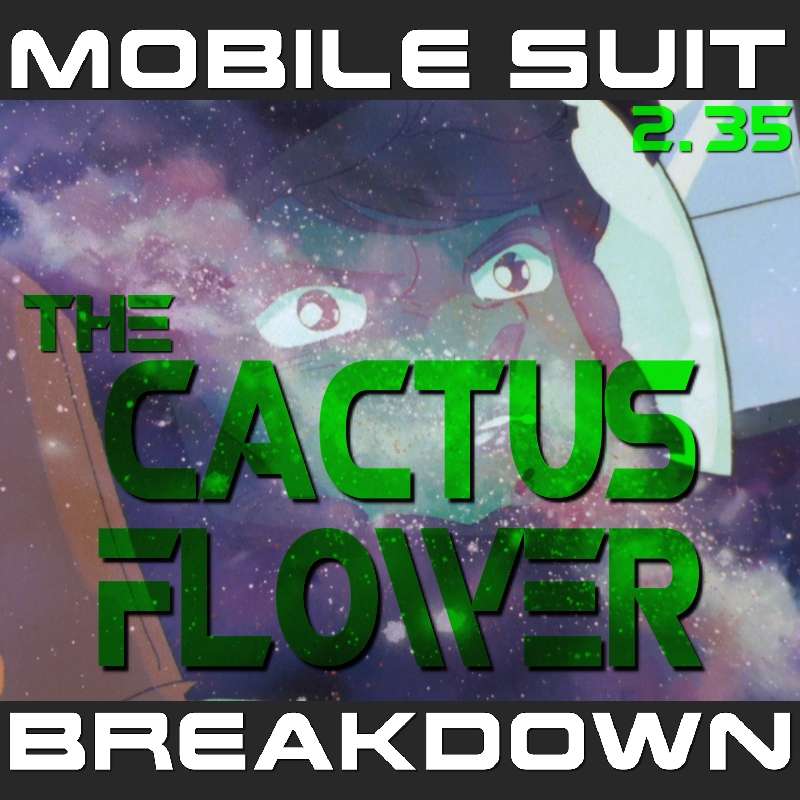 Yes, we know about the movie. Research is coming next week!
Show Notes
This week, we recap, review, and analyze Mobile Suit Zeta Gundam (機動戦士Ζガンダム) episode 34 - "The Call of Darkness" (宇宙が呼ぶ声), discuss our first impressions, and provide commentary and research on the Axis symbol and a wrestling move.
---
- Google image search for "astra star goddess."
- Wikipedia pages for Astraea and Asteria.
- About the Astra, Star Goddess symbol.
- About the "Charge of the Goddess" text.
- About Oberon Zell-Ravenheart, per his personal website, Wikipedia page, and a Vice review of "The Wizard of OZ" a documentary about Oberon Zell-Ravenheart's life. You can stream the documentary on Vimeo here.
- Modern paganism, some symbols used by pagan religions, and the Goddess movement.
- Goddesses, priestesses, and fertility symbols - examples from ancient art.
- Brooklyn Museum page on the terracotta figure of a woman with arms outstretched (Egyptian, circa 3400-3500 BCE).
Papers about feminism in Japan and how it has changed over time:
Matsui, Machiko. "Evolution of the Feminist Movement in Japan." NWSA Journal, vol. 2, no. 3, 1990, pp. 435–449. JSTOR, www.jstor.org/stable/4316048. Accessed 13 Feb. 2020.
Yumiko, Ehara, et al. "Japanese Feminism in the 1970s and 1980s." U.S.-Japan Women's Journal. English Supplement, no. 4, 1993, pp. 49–69. JSTOR, www.jstor.org/stable/42772052. Accessed 18 Feb. 2020.
- Personal knowledge provided by ActionAwesome.
- Articles about techniques in Pro Wrestling:
Jack Slack for Vice.com, Kayfabe Time Capsule: The Real Techniques of Professional Wrestling. Feb. 4, 2016. Available at https://www.vice.com/en_us/article/z4aeqj/kayfabe-time-capsule-the-real-techniques-of-professional-wrestling
Jake Shannon, Say Uncle!: Catch-as-Catch Can Wrestling and the Roots of Ultimate Fighting, Pro Wrestling & Modern Grappling. ECW Press (2011).
- YouTube instructional for applying the Boston Crab in a Judo context.
- Match records for Fall 1985 puroresu cards: '85 World Champion Carnival/New Wave in Japan, and Challenge Spirit '85/Taiwan Tour.
---
You can subscribe to the Mobile Suit Breakdown for free! on fine Podcast services everywhere and on YouTube, follow us on twitter @gundampodcast, check us out at gundampodcast.com, email your questions, comments, and complaints to [email protected]
Mobile Suit Breakdown wouldn't exist without the support of our fans and Patrons! You can join our Patreon to support the podcast and enjoy bonus episodes, extra out-takes, behind-the-scenes photo and video, MSB gear, and much more!
The intro music is WASP by Misha Dioxin, and the outro is Long Way Home by Spinning Ratio, both licensed under Creative Commons CC BY 4.0 license. Both have been edited for length.
Mobile Suit Breakdown provides critical commentary and is protected by the Fair Use clause of the United States Copyright law. Gundam content is copyright and/or trademark of Sunrise Inc., Bandai, Sotsu Agency, or its original creator. Mobile Suit Breakdown is in no way affiliated with or endorsed by Sunrise, Bandai, Sotsu, or any of their subsidiaries, employees, or associates and makes no claim to own Gundam or any of the copyrights or trademarks related to it.
Copyrighted content used in Mobile Suit Breakdown is used in accordance with the Fair Use clause of the United States Copyright law. Any queries should be directed to [email protected]
Find out more at http://gundampodcast.com