Duel in the Desert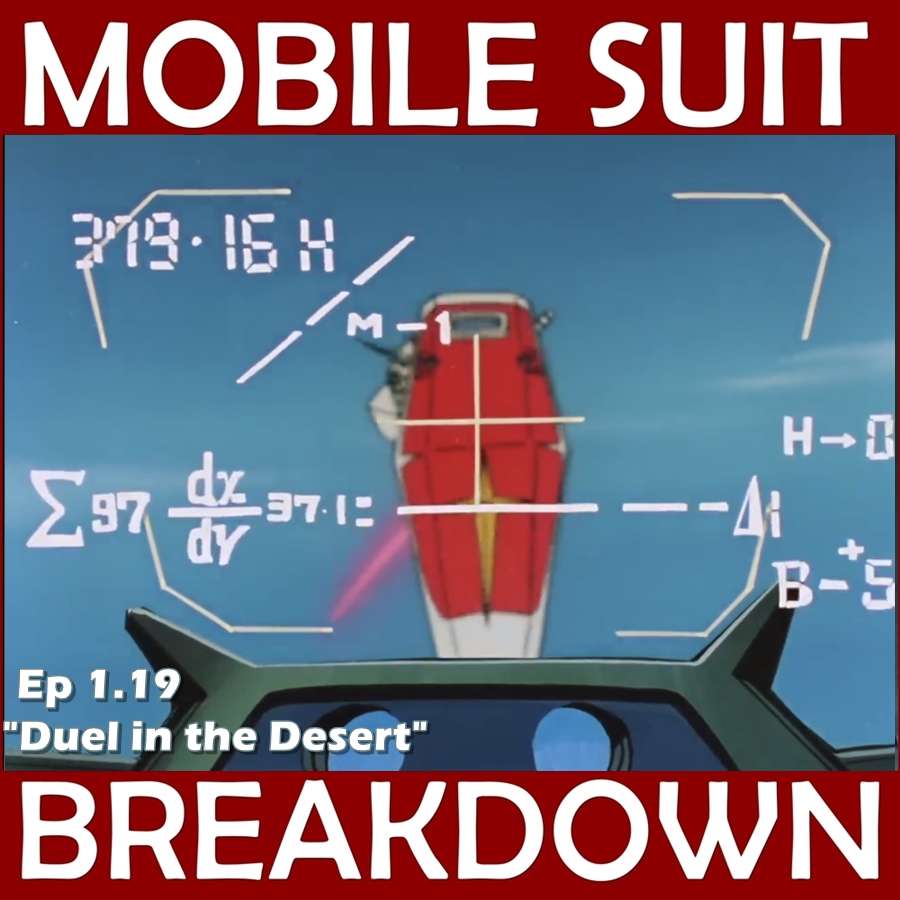 Gundam Ep. 19: A Podcast Similar to Regret
Show Notes
This week, we recap, review, and analyze Mobile Suit Gundam episode 19 (18 in the US), "Ramba Ral's Attack," discuss our first impressions, and provide commentary and research on: the city of Sodom, mythical weapons, and Kendo and other Japanese sword-fighting traditions.
- The city of Sodom shows up in a number of texts - Wikipedia and Encyclopedia Britannica have nice overviews of the attempts to establish Sodom's location archeologically, as well as the descriptions of Sodom and the story of its destruction across the Bible, the Torah, the Quran, and other sources.
- About the Winchester '73 model rifle, and its eponymous film, a classic of the Western genre.
- Three examples of deadly and blood-thirsty spears from Celtic mythology: Gáe Bulg, Lugh's spear, and the Lúin of Celtchar.
- Dyrnwyn, the sword that destroys the unworthy who try to draw it, is part of the Thirteen Treasures of the Island of Britain from Welsh mythology.
- The stories of Excalibur, Accolon's combat with Arthur and subsequent death, and Clarent.
- Muramasa (cursed) and Masamune (not cursed) Japanese swordsmiths, whose swords have several legends attached.
- A brief overview of Kendo, an expansion on Kendo tactics, and two pieces on how Kendo techniques differ from the cutting techniques of traditional sword fighting.
- Discussion of timings in Kendo, including "nuki" timing that Thom discusses, and a video of Kendoka practicing this timing. For a longer discussion of "nuki" timing:
Junzo Sasamori, Gordon Warner, This is Kendo: The Art of Japanese Fencing, Tuttle Publishing, 2012.
- Discussion of "katate" or one-handed striking in Kendo.
- Video of a young kenjutsuka practicing "tameshigiri" using a one-handed upward slash similar to that used by Amuro in the show.
- A guide to Iaido terminology.
- Different Tameshigiri cutting patterns. Amuro's is closest to the advanced sequence called "Mizu gaeshi."
You can subscribe to the Mobile Suit Breakdown for free! on fine Podcast services everywhere and on YouTube, follow us on twitter @gundampodcast, check us out at gundampodcast.com, email your questions, comments, and complaints to [email protected]
Mobile Suit Breakdown wouldn't exist without the support of our fans and Patrons! You can join our Patreon to support the podcast and enjoy bonus episodes, extra out-takes, behind-the-scenes photo and video, MSB gear, and much more!
The intro music is WASP by Misha Dioxin, and the outro is Long Way Home by Spinning Ratio, both licensed under Creative Commons CC BY 4.0 license. Both have been edited for length.
Mobile Suit Breakdown provides critical commentary and is protected by the Fair Use clause of the United States Copyright law. All Gundam content is copyright and/or trademark of Sunrise Inc., Bandai, or its original creator. Mobile Suit Breakdown is in no way affiliated with or endorsed by Sunrise Inc. or Bandai or any of its subsidiaries, employees, or associates and makes no claim to own Gundam or any of the copyrights or trademarks related to it.
Copyrighted content used in Mobile Suit Breakdown is used in accordance with the Fair Use clause of the United States Copyright law. Any queries should be directed to [email protected]
Find out more at http://gundampodcast.com