Three Reviews of Gundam NT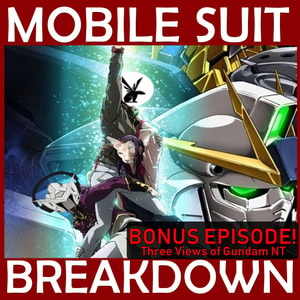 Bonus review! How was that Narrative anyway?
Show Notes
A month ago, Thom took special guests Allie and Sean to see Gundam NT on the big screen in Scenic New Yark City. Afterward, they ate dumplings and discussed the movie into the wee hours of the morning. That discussion became the February 2019 bonus episode for Mobile Suit Breakdown's subscribers on Patreon, but after mulling the movie for a few days Thom asked Allie and Sean to join him in recording some more considered thoughts about the movie as a special bonus for all of MSB's listeners. So now you all get to enjoy: Three Reviews of Gundam NT!
Warning: There are Gundam NT spoilers in our Gundam NT reviews in this episode. You have been warned!
You can subscribe to the Mobile Suit Breakdown for free! on fine Podcast services everywhere and on YouTube, follow us on twitter @gundampodcast, check us out at gundampodcast.com, email your questions, comments, and complaints to [email protected]
Mobile Suit Breakdown wouldn't exist without the support of our fans and Patrons! You can join our Patreon to support the podcast and enjoy bonus episodes, extra out-takes, behind-the-scenes photo and video, MSB gear, and much more!
The intro music is WASP by Misha Dioxin, and the outro is Long Way Home by Spinning Ratio, both licensed under Creative Commons CC BY 4.0 license. Both have been edited for length.
Mobile Suit Breakdown provides critical commentary and is protected by the Fair Use clause of the United States Copyright law. All Gundam content is copyright and/or trademark of Sunrise Inc., Bandai, or its original creator. Mobile Suit Breakdown is in no way affiliated with or endorsed by Sunrise Inc. or Bandai or any of its subsidiaries, employees, or associates and makes no claim to own Gundam or any of the copyrights or trademarks related to it.
Copyrighted content used in Mobile Suit Breakdown is used in accordance with the Fair Use clause of the United States Copyright law. Any queries should be directed to [email protected]
Find out more at http://gundampodcast.com