2.14: Relics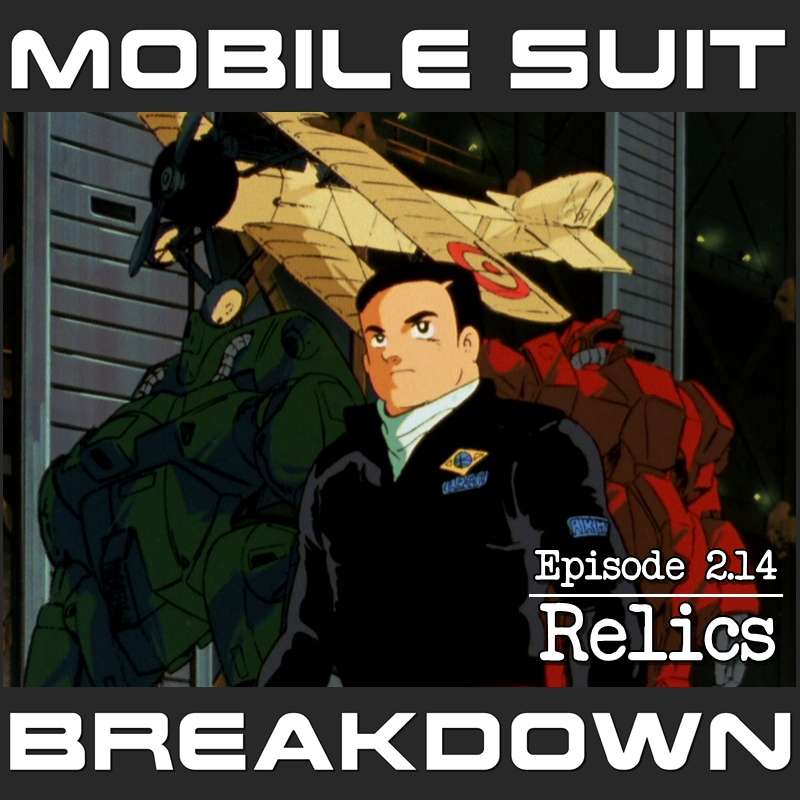 Consign your heroes to museums
Show Notes
This week, we recap, review, and analyze Mobile Suit Zeta Gundam (機動戦士Ζガンダム) episode 13 - "Shuttle Launch" (シャトル発進), discuss our first impressions, and provide commentary and research on the Valkyrie plane, art, plants in 1980s interior design, and Aristeia.
---
- NASA fact sheet about the Valkyrie and its service history.
- National Museum of the Air Force page on the Valkyrie.
- Wired article:
Meet the XB-70 Valkyrie, Almost the World's First Nuclear Aircraft, from io9, by Ed Grabianowski, on Dec. 28, 2010.
- National Interest article:
XB-70 Valkyrie: Why Didn't America Build This Mach 3 Monster Bomber? by Dave Majumdar, Jan 19, 2017.
- NASA article about the Valkyrie crash.
- A more extensive page on the crash, including information about its aftermath, from the website of a group of... aviation crash enthusiasts.
- Newspaper article from after the crash, about the inquiry into the causes:
"Colonel Loses Post over XB70 Crash" from The Tuscaloosa News, Aug. 16, 1966.
- National Interest article about the competition between bombers and fighter during the Cold War:
Bombers vs. Fighters in the Jet Era: Who Won the Battle for the Sky?, by Robert Farley, Nov. 24, 2018.
- The author of this book was Director of Defense Research and Engineering in the Department of Defense, in the latter 1950s and early 1960s. He was subsequently Chancellor of the University of California at San Diego, and then founding Director of the University of California Insitute on Global Conflict and Cooperation:
Race to Oblivion: A Participant's View of the Arms Race, Herbert F. York, Simon and Schuster, 1970.
- Screenshots of the art in Amuro's home (the pieces we identified and the ones that have us stumped, plus side by side comparisons of the identified paintings with the work they're based on).
- Wikipedia pages on Jacob van Ruisdael and the painting Windmill at Wijk bij Duursted.
- The Amsterdam Museum's page for De Molen bij Wijk bij Duurstede (Dutch).
- Wikipedia page for Jean Honoré Fragonard, and a page about Fragonard and his most famous works (including The Bathers).
- Wikimedia page for Fragonard's painting, The Bathers.
- Wiki page on Delftware (probable inspiration for the blue-and-white ceramics on Amuro's mantlepiece).
- Articles about 1980's home decor and interior design, all of which mention plant-trends.
- Various articles about indoor, built-in planters, mostly with regards to how they can be repurposed or updated now that it's no longer trendy to use them as planters.
- Care-guides for indoor hedge plants: boxwood and Japanese privet.
- Thom's source for Aristeia in the lost poems of the epic cycle:
Device and Composition in the Greek Epic Cycle, Benjamin Sammon, Oxford University Press, 2017.
- Aristeia and philotimia - Two key concepts of the ancient Greek world, by Eugenia Russell, Feb. 19, 2018.
- A very neat comic strip depiction of how Aristeia works, from Greek Myth Comix. This comic was guest-contributed by Parham Sorooshian, Feb. 21, 2014.
- A.T. Murray's 1924 translation of Homer's The Iliad, published by Harvard University Press, Cambridge MA.
- Alexander Pope's 1899 translation of Homer's The Iliad, published by BH Stanton, Boston MA.
- A handy pronunciation guide for many of the heroes in The Iliad.
---
You can subscribe to the Mobile Suit Breakdown for free! on fine Podcast services everywhere and on YouTube, follow us on twitter @gundampodcast, check us out at gundampodcast.com, email your questions, comments, and complaints to [email protected]
Mobile Suit Breakdown wouldn't exist without the support of our fans and Patrons! You can join our Patreon to support the podcast and enjoy bonus episodes, extra out-takes, behind-the-scenes photo and video, MSB gear, and much more!
The intro music is WASP by Misha Dioxin, and the outro is Long Way Home by Spinning Ratio, both licensed under Creative Commons CC BY 4.0 license. Both have been edited for length.
Mobile Suit Breakdown provides critical commentary and is protected by the Fair Use clause of the United States Copyright law. Gundam content is copyright and/or trademark of Sunrise Inc., Bandai, Sotsu Agency, or its original creator. Mobile Suit Breakdown is in no way affiliated with or endorsed by Sunrise, Bandai, Sotsu, or any of their subsidiaries, employees, or associates and makes no claim to own Gundam or any of the copyrights or trademarks related to it.
Copyrighted content used in Mobile Suit Breakdown is used in accordance with the Fair Use clause of the United States Copyright law. Any queries should be directed to [email protected]
Find out more at http://gundampodcast.com