2.29: A Show of Mercy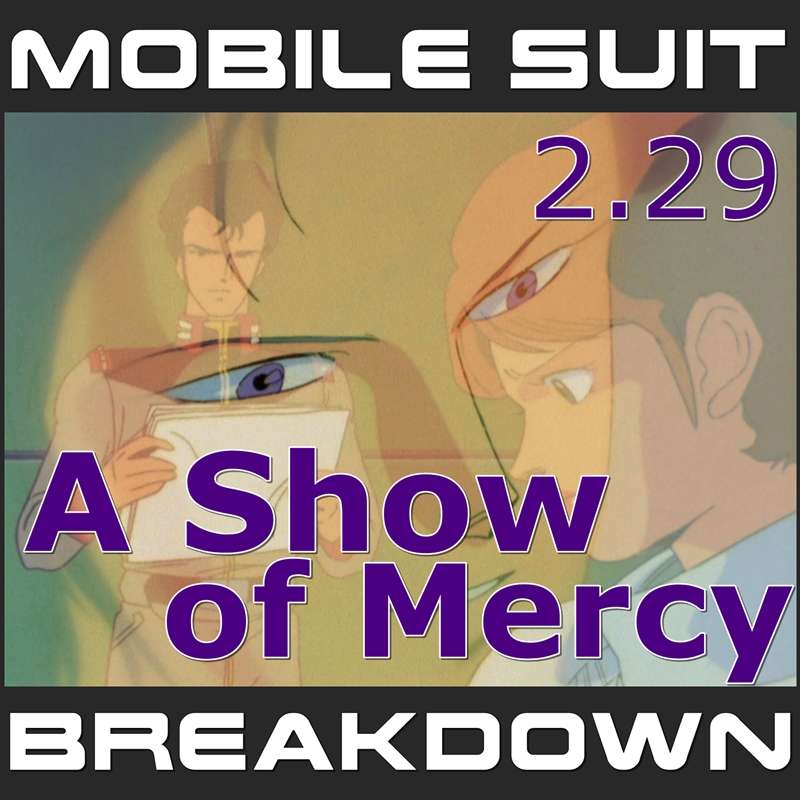 "Is it better to be loved than feared or feared than loved? It may be answered that one should wish to be both."
Show Notes
This week, we recap, review, and analyze Mobile Suit Zeta Gundam (機動戦士Ζガンダム) episode 28 - The Jupitris Infiltration (ジュピトリス潜入), discuss our first impressions, and provide commentary and research on physical deception and women spies.
We are joined by guest-voice Adam Black, who asked us to link to One Earth Sanga, and organization he works with that "expresses a Buddhist response to ecological crises."
---
- Wikipedia page for Operation Bodyguard, comprised of Operations Fortitude and Quicksilver.
- Wikipedia page for the 23rd Headquarters Special Troops (aka the "Ghost Army"), American deception specialists operating in Europe after D-Day.
- A collection of historical materials about the 23rd Headquarters.
- The 23rd Headquarter's most famous alumnus, fashion designer extraordinaire Bill Blass.
- An overview on dummy tanks.
- New York Times article about modern Russian inflatable dummies:
Andrew E. Kramer, A New Weapon in Russia's Arsenal, and It's Inflatable. New York Times article, Oct. 12, 2016. Available at https://nyti.ms/2dWBU8A
- Some modern inflatable dummy manufacturers, so you can see pictures of just how real they look (and in case you want your own).
- Books about the Second Battle of El Alamein:
John Latimer, Alamein. Harvard UP (2002).
James Lucas, War in the Desert: the Eighth Army at El Alamein. Beaufort (New York 1982).
- Wikipedia page for Operation Bertram.
- Articles and books on Operation Bertram:
Rickard, J (21 April 2017), Operation Bertram, http://www.historyofwar.org/articles/operation_bertram.html
Peter Forbes, Dazzled and Deceived: Mimicry and Camouflage. Yale UP (2011).
Rick Stroud, The Phantom Army of Alamein: The Men Who Hoodwinked Rommel. A&C Black (2013)
- US Naval War College page on women in espionage, with lots of great links to books, articles, and websites with additional information.
- Wikipedia category page for "female wartime spies."
- Wikipedia page for "sexpionage" with definition and famous examples.
- Article from The Washington Post about sexpionage in the Cold War:
Dobbs, Michael. "SEXPIONAGE WHY WE CAN'T RESIST THOSE KGB SIRENS." The Washington Post, 12 Apr. 1987.
- Journal article:
Martin, Amy J. "America's Evolution of Women and Their Roles in the Intelligence Community." Journal of Strategic Security, vol. 8, no. 3, 2015, pp. 99–109. JSTOR, www.jstor.org/stable/26465249. Accessed 8 Jan. 2020.
- More recent articles from Forbes and The Guardian about perceived strengths and advantages of women as spies.
- Brief discussion of the history of women in the CIA, culminating with the appointment of Gina Haspel as Director of the CIA in 2018.
- Article from The Atlantic, reviewing several books about women in espionage. Includes good excerpts with anecdotes about famous women spies and some of the thought process behind using women for espionage work:
Mundy, Liza. "Female Spies and Their Secrets." The Atlantic, June 2019. Accessed at https://www.theatlantic.com/magazine/archive/2019/06/female-spies-world-war-ii/588058/.
- Article with stories of specific women spies:
Jarvis, Erika. "Five Badass Female Spies Who Deserve Their Own World War II Movie." Vanity Fair, 26 Nov. 2016. Accessed at https://www.vanityfair.com/hollywood/2016/11/allied-world-war-2-female-spy-movies
- And more stories of amazing women spies.
- Defense Intelligence Agency short bios of women in espionage, page 1 and page 2.
- The music in the ABC (AEUG Broadcasting Channel) is:
Gemini (Instrumental Version) by Josh Woodward, licensed under a Creative Commons Attribution License.
---
You can subscribe to the Mobile Suit Breakdown for free! on fine Podcast services everywhere and on YouTube, follow us on twitter @gundampodcast, check us out at gundampodcast.com, email your questions, comments, and complaints to [email protected]
Mobile Suit Breakdown wouldn't exist without the support of our fans and Patrons! You can join our Patreon to support the podcast and enjoy bonus episodes, extra out-takes, behind-the-scenes photo and video, MSB gear, and much more!
The intro music is WASP by Misha Dioxin, and the outro is Long Way Home by Spinning Ratio, both licensed under Creative Commons CC BY 4.0 license. Both have been edited for length.
Mobile Suit Breakdown provides critical commentary and is protected by the Fair Use clause of the United States Copyright law. Gundam content is copyright and/or trademark of Sunrise Inc., Bandai, Sotsu Agency, or its original creator. Mobile Suit Breakdown is in no way affiliated with or endorsed by Sunrise, Bandai, Sotsu, or any of their subsidiaries, employees, or associates and makes no claim to own Gundam or any of the copyrights or trademarks related to it.
Copyrighted content used in Mobile Suit Breakdown is used in accordance with the Fair Use clause of the United States Copyright law. Any queries should be directed to [email protected]
Find out more at http://gundampodcast.com