Win Every Battle, Lose the War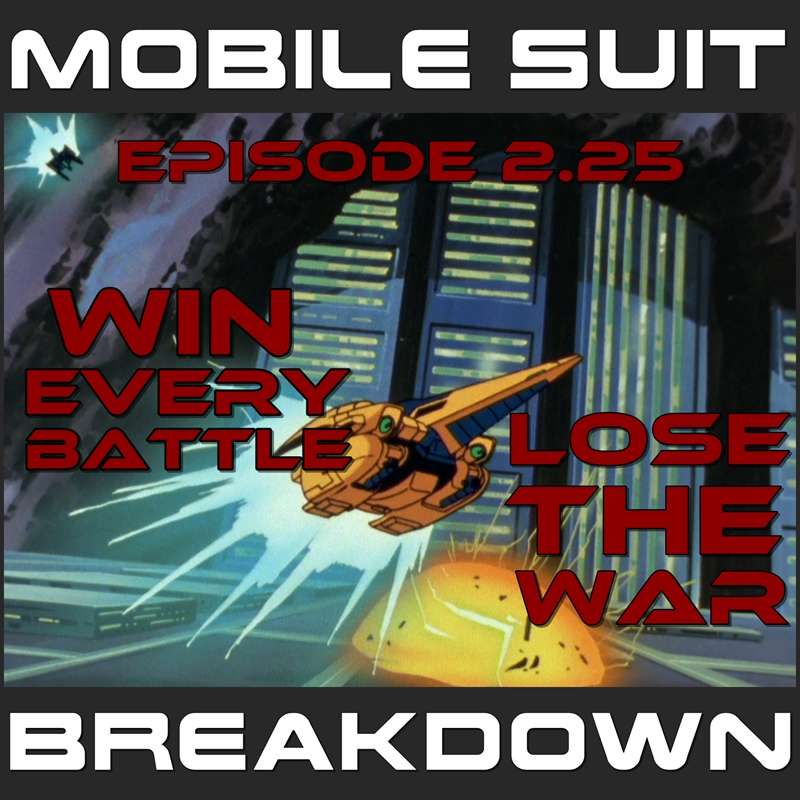 What do Blex Forer and the Zabi family have in common?
Show Notes
This week, we recap, review, and analyze Mobile Suit Zeta Gundam (機動戦士Ζガンダム) episode 24 - Counterattack (反撃), discuss our first impressions, and provide commentary and research on Japanese grammar and vocabulary, Wernher von Braun, desertification, and a final (we hope!) note about "the birds will laugh at me."
---
- Kotobank page for レクリエーション (recreation). Kotobank pulls definitions from various sources. All definitions in Japanese.
- Miriam Webster and Dictionary.com definitions of recreation.
- To talk about the ~んです grammar from this episode, I consulted the following books (and highly recommend them if you're studying Japanese):
"No Da のだ." A Dictionary of Basic Japanese Grammar 日本語基本文法辞典, by Seiichi Makino and Michio Tsutsui, Japan Times, 2007, pp. 325–328.
"Chapter 12.1 ~んです." Genki I an Integrated Course in Elementary Japanese, by Eri Banno et al., The Japan Times, 1999, pp. 230–231.
- Wikipedia pages for Von Braun himself, the Von Braun Crater (not the site of Von Braun City), and the V-2 (vergeltungswaffe, "vengeance weapon") rocket program he headed.
- A review of empirical evidence about Von Braun's membership in the Nazi party, the SS, and the extent of his culpability for the suffering and death of the enslaved laborers who built his rockets:
Neufeld, Michael J. "Wernher Von Braun, the SS, and Concentration Camp Labor: Questions of Moral, Political, and Criminal Responsibility." German Studies Review, vol. 25, no. 1, 2002, pp. 57–78. JSTOR, <www.jstor.org/stable/1433245>.
- A history of the V-2 rocket program:
Bode, Volkhard and Kaiser, George. Building Hitler's Missiles: Traces of History in Peenemünde. Ch. Links Verlag (2008).
- A broadly positive history of Von Braun's life and career that touches on the darker aspects:
Dunar, Andrew J. Wernher Von Braun: A Visionary as Engineer and Manager. From Realizing the Dream of Flight, a NASA anthology edited by Virginia Dawson and Mark Bowles. Government Printing Office (Dec 31, 2005).
- Article describing a young Von Braun engaged in what would today be considered unethical experiments on mice:
Bartels, Meghan. "Before He Was a Rocket Engineer for Nazi Germany, Von Braun Was a Student Experimenting on Mice." Space.com. August 12, 2019. Available at https://www.space.com/wernher-von-braun-college-mice-experiments.html
- Reference.com: What percentage of Africa is desert?
- Wikipedia pages on desertification and on Sahel droughts.
- Britannica page on desertification.
- An overview of current understanding of desertification, from the Desertification Control Bulletin.
- Detailed statistics and maps indicating risk of human-induced desertification in Africa, from the United States Department of Agriculture.
- A more recent (2015) article from the BBC about the current effects of desertification.
- Homepage, Wikipedia page, and Smithsonian article about The Great Green Wall, a project to combat desertification in the Sahel.
---
You can subscribe to the Mobile Suit Breakdown for free! on fine Podcast services everywhere and on YouTube, follow us on twitter @gundampodcast, check us out at gundampodcast.com, email your questions, comments, and complaints to [email protected]
Mobile Suit Breakdown wouldn't exist without the support of our fans and Patrons! You can join our Patreon to support the podcast and enjoy bonus episodes, extra out-takes, behind-the-scenes photo and video, MSB gear, and much more!
The intro music is WASP by Misha Dioxin, and the outro is Long Way Home by Spinning Ratio, both licensed under Creative Commons CC BY 4.0 license. Both have been edited for length.
Mobile Suit Breakdown provides critical commentary and is protected by the Fair Use clause of the United States Copyright law. Gundam content is copyright and/or trademark of Sunrise Inc., Bandai, Sotsu Agency, or its original creator. Mobile Suit Breakdown is in no way affiliated with or endorsed by Sunrise, Bandai, Sotsu, or any of their subsidiaries, employees, or associates and makes no claim to own Gundam or any of the copyrights or trademarks related to it.
Copyrighted content used in Mobile Suit Breakdown is used in accordance with the Fair Use clause of the United States Copyright law. Any queries should be directed to [email protected]
Find out more at http://gundampodcast.com