2.13: Appetite for Mass Destruction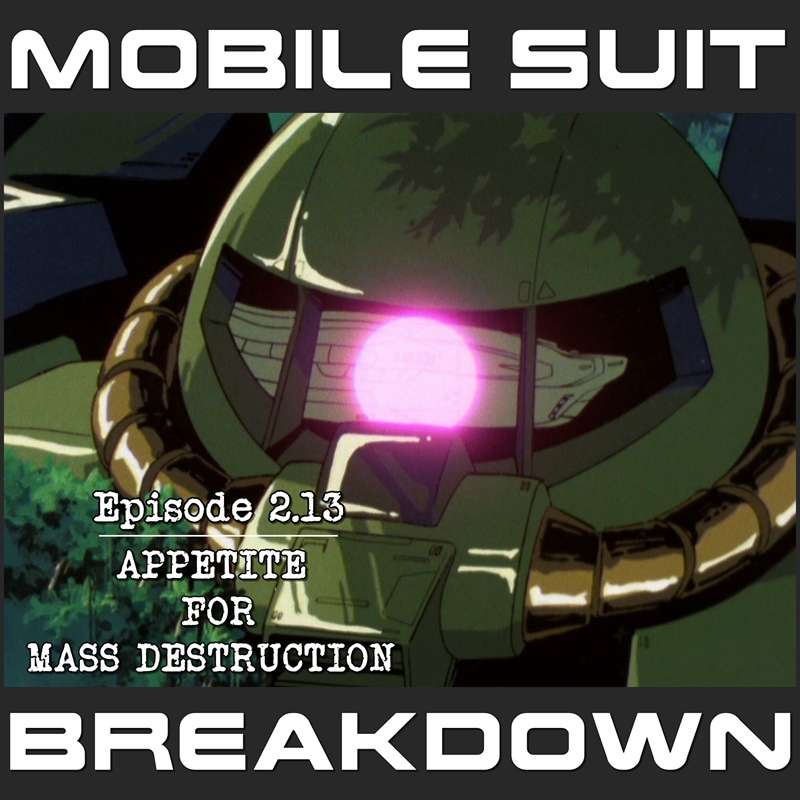 The Amazon Is Burning
Show Notes
This week, we recap, review, and analyze Mobile Suit Zeta Gundam (機動戦士Ζガンダム) episode 12 - "The Winds of Jaburo" (ジャブローの風), discuss our first impressions, and provide commentary and research on nuclear explosions, the Fall of Saigon, and Mobile Suit Variations.
---
- Wikipedia pages on nuclear weapons testing generally, United States nuclear weapon tests, high-altitude nuclear explosions, and underground nuclear testing.
- And pages on the effects of nuclear explosions, including blast waves, mushroom clouds, nuclear electromagnetic pulses, and condensation clouds.
- Slide deck explaining effects of nuclear weapons (WARNING: graphic descriptions and images of nuclear weapon effects on human bodies).
- The Operation Crossroads tests at Bikini Atoll.
- Two narratives of the Operation Crossroads debacle (includes pictures and video).
- Video of underwater nuclear tests (Wahoo and Umbrella, in the 1950s).
- About the Partial Test Ban Treaty (which banned all testing except underground testing).
- Federation of American Scientists (an NGO founded by alumni of the Manhattan Project) page on underground nuclear testing.
- Footage of an underground nuclear explosion.
- Paper on the containment of underground nuclear explosions, with descriptions of how they work.
- Article about underground testing at the Nevada facility where more than 800 tests were performed.
- BBC article explaining how underground nuclear tests function.
- Dangers of underground testing contaminating groundwater:
"Concerns Arise Over Aquifer Near Nuclear Test Site" by Martin Forstenzer, March 21, 2000.
- Wikipedia pages for the Fall of Saigon and Operation Frequent Wind.
- Collection of photographs from the end of the Vietnam War.
- Timeline and personal account of the final days of the Vietnam War by Pulitzer Prize-winning journalist Peter Arnett, who was there at the time reporting for the Associated Press.
- First-hand account from journalist Jim Laurie, that mentions approximately 400 Japanese nationals in Saigon/Ho Chi Minh City at the war's end.
- Newsweek article from the 40th Anniversary of the Fall of Saigon.
- Famous rooftop-evacuation photos, by Hubert van Es (at that time a photographer for United Press International).
- Paper discussing US media depictions of the end of the Vietnam War. Most relevant to our discussion, it touches on how the end of the war was perceived to affect diplomatic relations with other Asian nations.
- Paper on Japanese media portrayals of the Vietnam War, and Japanese public's perception of and reaction to the war:
How The Japanese Protest Movement From 1964 To 1968 Changed The Japan-United States Bilateral Relationship During The Vietnam War, Justin Gervais
- Article from the Japan Times about Japan's role in the Vietnam War, particularly Okinawa's, and the war's lasting effects on the region.
- Per our discussion about the fires in the Amazon rainforest:
Rainforest Trust uses donations to purchase ecologically vital land in the rainforest and holds it in trust, safeguarding more than 10,000 critically endangered species. They protect some 23 million acres and counting. Charity Navigator rates them 94.69/100 for accountability and transparency. https://www.rainforesttrust.org/

The Amazon Conservation Team partners with indigenous in the Amazon to map, study, and protect the rainforest. They are focused on supporting indigenous communities who are on the front lines fighting against deforestation. They encourage sustainable rainforest use and push for legal protections. Charity Navigator rates them 99.06/100 for accountability and transparency. https://www.amazonteam.org/
- The song for the TNN segment is LAST DAZE by Robbero (c) copyright 2018 Licensed under a Creative Commons Attribution Noncommercial (3.0) license.
---
You can subscribe to the Mobile Suit Breakdown for free! on fine Podcast services everywhere and on YouTube, follow us on twitter @gundampodcast, check us out at gundampodcast.com, email your questions, comments, and complaints to [email protected]
Mobile Suit Breakdown wouldn't exist without the support of our fans and Patrons! You can join our Patreon to support the podcast and enjoy bonus episodes, extra out-takes, behind-the-scenes photo and video, MSB gear, and much more!
The intro music is WASP by Misha Dioxin, and the outro is Long Way Home by Spinning Ratio, both licensed under Creative Commons CC BY 4.0 license. Both have been edited for length.
Mobile Suit Breakdown provides critical commentary and is protected by the Fair Use clause of the United States Copyright law. Gundam content is copyright and/or trademark of Sunrise Inc., Bandai, Sotsu Agency, or its original creator. Mobile Suit Breakdown is in no way affiliated with or endorsed by Sunrise, Bandai, Sotsu, or any of their subsidiaries, employees, or associates and makes no claim to own Gundam or any of the copyrights or trademarks related to it.
Copyrighted content used in Mobile Suit Breakdown is used in accordance with the Fair Use clause of the United States Copyright law. Any queries should be directed to [email protected]
Find out more at http://gundampodcast.com