2.33: A Long Time Ago, We Used To Be Friends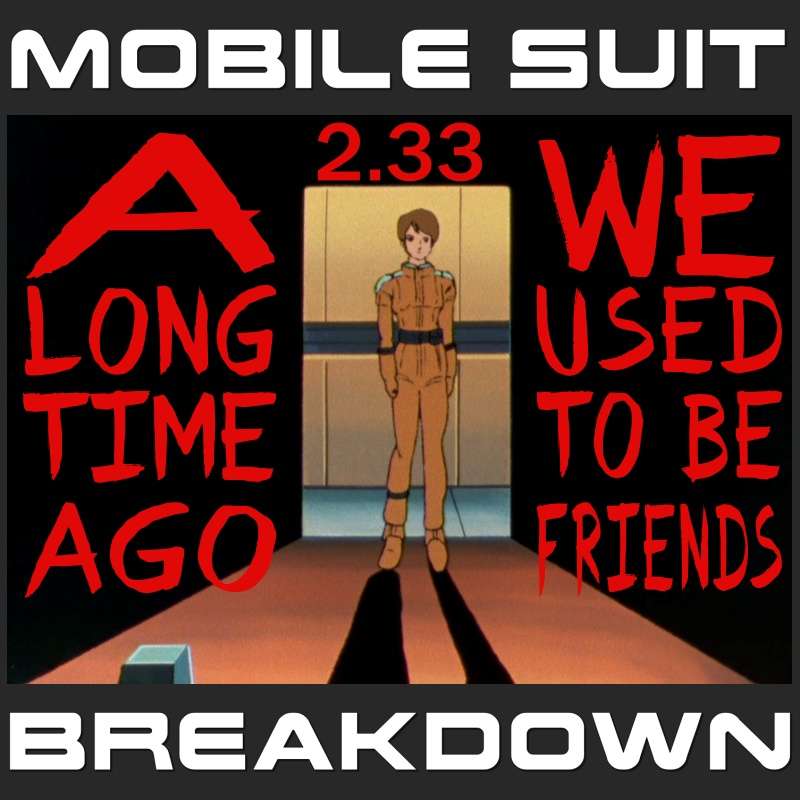 What's Eating Reccoa Londe?
Show Notes
This week, we recap, review, and analyze Mobile Suit Zeta Gundam (機動戦士Ζガンダム) episode 32 - "Unidentified Mobile Suits" (謎のモビルスーツ), discuss our first impressions, and provide commentary and research on the history of ice cream in Japan (part 2), and Yazan's turtle tattoo.
---
- Web resources (in Japanese) about the history of ice cream:
"アイスクリームの工業化."日本アイスクリーム協会, https://www.icecream.or.jp/biz/history/japan02.html
"アイスクリーム時代の到来."日本アイスクリーム協会, https://www.icecream.or.jp/biz/history/japan03.html
細野明義. "アイスクリームの日本昔話." 日本アイスクリーム協会, https://www.icecream.or.jp/biz/history/oldstory.pdf
"日本アイスクリーム史 - 昨日、今日、そして明日へ." 日本アイスクリーム協会, https://www.icecream.or.jp/biz/history/history.pdf
- Calculator to adjust past prices for inflation.
- Wikipedia page on the three sacred treasures (traditional and "new").
- I got population numbers by searching "Japan population [date]" in Google. It cites the World Bank as one of its sources for historical population data.
- Article about the mid-1980s luxury ice cream fad in Japan, namely for Häagen-Dazs:
Chira, Susan. "AN ICE CREAM WINS JAPANESE." The New York Times, 20 Aug. 1985.
- Paper about an ethnographic study of fast food perceptions and consumption in Japan:
Traphagan, John W., and L. Keith Brown. "Fast Food and Intergenerational Commensality in Japan: New Styles and Old Patterns." Ethnology, vol. 41, no. 2, 2002, pp. 119–134. JSTOR, www.jstor.org/stable/4153002. Accessed 5 Feb. 2020.
- Explanation of "indirect kiss," and several other romantic gestures that show up in Japanese media.
- Wikipedia page on Japanese tattooing, including notes on the status of tattoos in the modern period.
- English-language articles about discrimination against people with tattoos in Japan:
Justin McCurry for The Guardian, Mayor of Osaka launches crusade against tattoos. May 17, 2012. Available at https://www.theguardian.com/world/2012/may/17/mayor-osaka-tattoos.
Author unknown, the Japan Times, Supreme Court upholds Osaka city's tattoo check on workers as legal. November 14, 2016. Available at https://www.japantimes.co.jp/news/2016/11/14/national/crime-legal/supreme-court-upholds-osaka-citys-tattoo-check-workers-legal/#.Xj2PnGhKiUm
- Article by Bryan Ashcraft (author of Japanese Tattoos: History * Culture * Design) for Kotaku about a government crackdown on tattooing:
Japan is Trying to Destroy Tattoos, updated June 3, 2016. Available at https://kotaku.com/japan-is-trying-to-destroy-tattoos-update-1747046619
- Discogs record for the Japanese release of The Dream of the Blue Turtles, including its release date.
- July 1985 Spin Magazine interview with Sting.
- The Dream of the Blue Turtles full track and a playlist for the full album.
- Review of The Dream of the Blue Turtles album discussing its success:
Jeff Giles for Ultimate Classic Rock, REVISITING STING'S SOLO DEBUT, 'THE DREAM OF THE BLUE TURTLES'. Date unknown. Available at: https://ultimateclassicrock.com/sting-dream-of-the-blue-turtles/
- Wikipedia page for the color ao (青、あお) and Jisho.org entry.
- Article about traditional Japanese color theory:
Sarah W. and Fiona for Tofugu, The Traditional Colors of Japan. September 12, 2013. Available at https://www.tofugu.com/japan/color-in-japan/
- Wikipedia page for the blue-green distinction in language.
- Japanese Wikipedia page for the Green Sea Turtle (アオウミガメ). Thom accidentally dropped a syllable during recording - he said "aomigame" but it should be "aoumigame.
- The music used in the AEUG Broadcasting Channel segment was Gemini (Instrumental Version) by Josh Woodward, licensed under a Creative Commons Attribution License. The work is available at https://freemusicarchive.org/music/Josh_Woodward/The_Wake_1790/JoshWoodward-TheWake-NoVox-12-Gemini and Josh Woodward's website is www.joshwoodward.com.
- The voice of Yugi the AEUG Assistance Aardvark was provided by Adam Black, who encourages you to check out https://oneearthsangha.org/ to help save our planet.
---
You can subscribe to the Mobile Suit Breakdown for free! on fine Podcast services everywhere and on YouTube, follow us on twitter @gundampodcast, check us out at gundampodcast.com, email your questions, comments, and complaints to [email protected]
Mobile Suit Breakdown wouldn't exist without the support of our fans and Patrons! You can join our Patreon to support the podcast and enjoy bonus episodes, extra out-takes, behind-the-scenes photo and video, MSB gear, and much more!
The intro music is WASP by Misha Dioxin, and the outro is Long Way Home by Spinning Ratio, both licensed under Creative Commons CC BY 4.0 license. Both have been edited for length.
Mobile Suit Breakdown provides critical commentary and is protected by the Fair Use clause of the United States Copyright law. Gundam content is copyright and/or trademark of Sunrise Inc., Bandai, Sotsu Agency, or its original creator. Mobile Suit Breakdown is in no way affiliated with or endorsed by Sunrise, Bandai, Sotsu, or any of their subsidiaries, employees, or associates and makes no claim to own Gundam or any of the copyrights or trademarks related to it.
Copyrighted content used in Mobile Suit Breakdown is used in accordance with the Fair Use clause of the United States Copyright law. Any queries should be directed to [email protected]
Find out more at http://gundampodcast.com