2.47: Battle Among Gods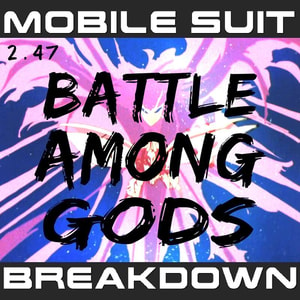 If you are none of these you can be sure it will kill you too but there will be no special hurry.
Show Notes
This week, we recap, review, and provide analysis of Mobile Suit Zeta Gundam (機動戦士Ζガンダム) episode 46 - "Scirocco Rises" (シロッコ立つ), discuss our first impressions, and provide commentary and research on the Bolinoak Samahn mobile suit.
-
- Japanese Wikipedia page for the Bolinoak Samahn (ボリノーク・サマーン).
- Japanese Wikipedia page for Mori no kuma-san (森のくまさん).
- Detailed (Japanese language) discussion of the song, although the author introduces some less-well-established theories about other folk songs that might have played a role in its origins.
- English version of "The Other Day, I Met a Bear" from Scoutsongs.com.
- Wikipedia page for the English version of "The Other Day, I Met a Bear."
- Japanese Wikipedia page for Yoshihiro Baba (馬場祥弘), self-proclaimed lyricist of Mori no kuma-san.
- Brief history of the 13th World Scout Jamboree.
- Two brief New York Time articles about the Jamboree, one when they first arrived, and one from when a typhoon hit Japan and forced the evacuation of 23,000 scouts:
First Boy Scouts from U.S. Reach Japan for Jamborees, July 25, 1971. Available at https://nyti.ms/1kpzjDq.
78 Dead in Storm's Wake In Japan and South Korea, August 7, 1971. Available at https://nyti.ms/1LB0QMq
- The Titans News Network segment featured the voice talents of listeners Jameson, JR Schmitt, Manny Fresh, Crimson, Turlooke, Paragon, Hobbs, and Em Marko. Special thanks to Hobbs who suggested the name of Captain Bask's kitten.
- The song from the Titans News Network segment is "Chance" by Kai Engel. License here.
- The research piece for the Bolinaok Samahn included brief segments from Mori no Kuma-san, from the Ranma 1/2 anime soundtrack (available in full at https://youtu.be/hl6wwJZXvoQ); The Other Day I Met a Bear as arranged by Naoki Tamura and performed by Aimee B. for KIDS TV JAPAN (available in full at https://youtu.be/MdAqPiGS2Ug), and Sippin' Cider Through a Straw as performed by Chubby Checker (available in full at https://youtu.be/ZtwD7UzJ37s). The selections are used pursuant to the Fair Use provisions of U.S. copyright law.
- The tribute to Sarah Zabiarov includes the song "Uro Uro" by The Kyoto Connection. License here.
-
You can subscribe to Mobile Suit Breakdown for free! on fine Podcast services everywhere and on YouTube, follow us on twitter @gundampodcast, check us out at gundampodcast.com, email your questions, comments, and complaints to [email protected]
Mobile Suit Breakdown wouldn't exist without the support of our fans and Patrons! You can join our Patreon to support the podcast and enjoy bonus episodes, extra out-takes, behind-the-scenes photo and video, MSB gear, and much more!
The intro music is WASP by Misha Dioxin, and the outro is Long Way Home by Spinning Ratio, both licensed under Creative Commons CC BY 4.0 license. Both have been edited for length.
Mobile Suit Breakdown provides critical commentary and is protected by the Fair Use clause of the United States Copyright law. Gundam content is copyright and/or trademark of Sunrise Inc., Bandai, Sotsu Agency, or its original creator. Mobile Suit Breakdown is in no way affiliated with or endorsed by Sunrise, Bandai, Sotsu, or any of their subsidiaries, employees, or associates and makes no claim to own Gundam or any of the copyrights or trademarks related to it.
Copyrighted content used in Mobile Suit Breakdown is used in accordance with the Fair Use clause of the United States Copyright law. Any queries should be directed to [email protected]
Find out more at http://gundampodcast.com