2.3 - A Boy Named Sue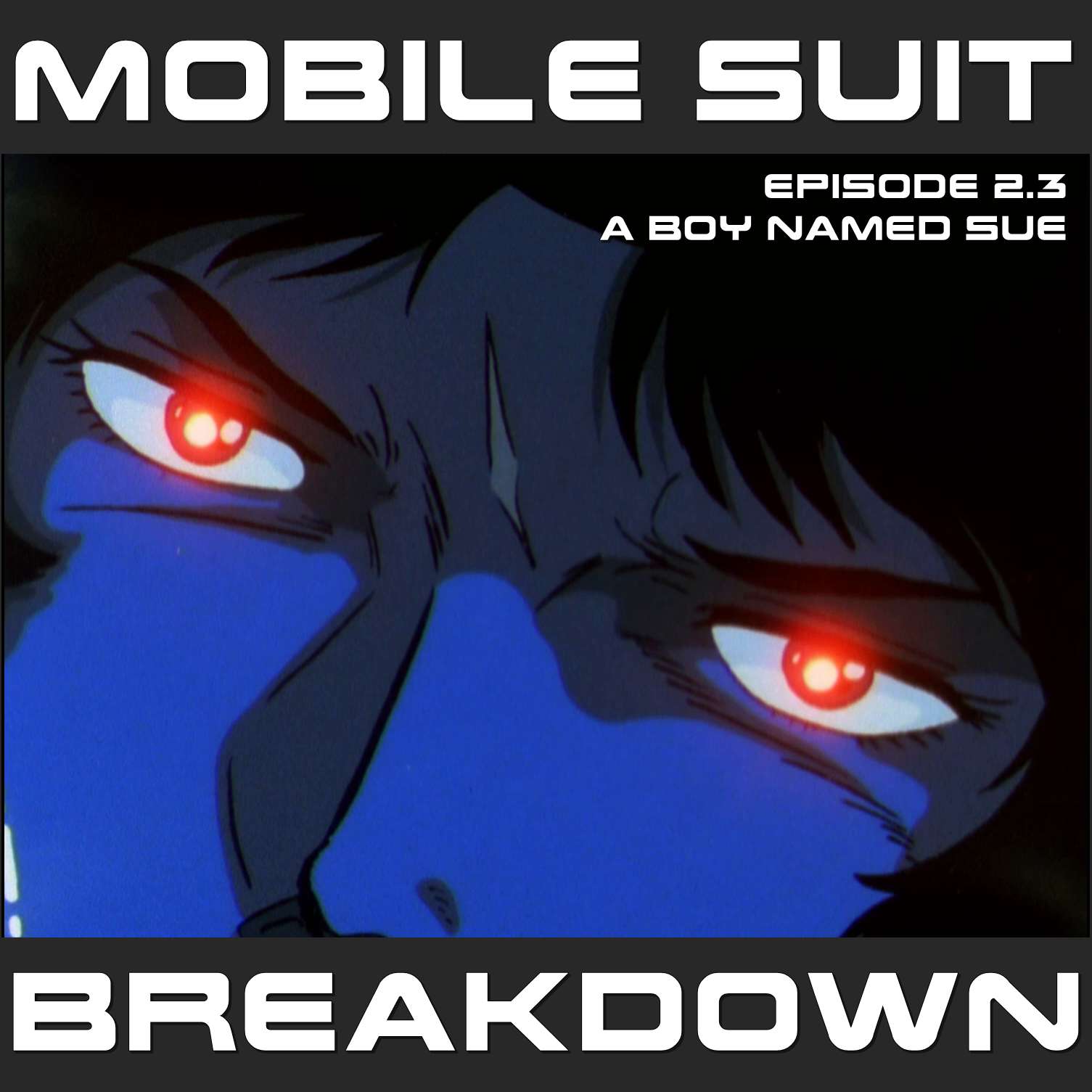 I tell you, life ain't easy for a boy named Kamille
Show Notes
This week, we recap, review, and analyze Mobile Suit Zeta Gundam (機動戦士Ζガンダム) episode 2 "Departure" (旅立ち), discuss our first impressions, and provide commentary and research on bird lime, colonialism, Herculine Barbin, and the name Camille/Kamille.
---
- Wikipedia pages the Black Devils, high-explosive squash head (an explosive similar to the sticky bomb, with explanation of how it functions when used against tank armor), birdlime, and sticky bombs.
- "BIRD LIMES AND RAT GLUES—STICKY SITUATIONS," by William D. Fitzwater (February 1982), presented at the Tenth Vertebrate Pest Conference.
- Discussion of traditional birdlime preparations that supposedly used mistletoe.
- Colonialism from a philosophical perspective:
Kohn, Margaret and Reddy, Kavita, "Colonialism", The Stanford Encyclopedia of Philosophy (Fall 2017 Edition), Edward N. Zalta (ed.), URL = <https://plato.stanford.edu/archives/fall2017/entries/colonialism/>.
- List of types/motivations of colonialism:
Shoemaker, Nancy. "A Typology of Colonialism." Perspectives on History, 1 Oct. 2015.
- Paper on the stages of colonialism in Africa, and my main source on colonialism as a source of contested reality and memory:
Bulhan, Hussein A.. "Stages of Colonialism in Africa: From Occupation of Land to Occupation of Being." Journal of Social and Political Psychology [Online], 3.1 (2015): 239-256. Web. 15 Jun. 2019
*- Essay, "The Colonization of Africa," by Ehiedu E. G. Iweriebor of Hunter College. Part of the New York Public Library's project "Africana Age: African and African Diasporan Transformations in the 20th Century."
- Some specifics about colonial policing:
Robert T. Sigler & David J. King (1992) Colonial policing and control of movements for independence, Policing and Society, 3:1, 13-22, DOI: 10.1080/10439463.1992.9964654
- Wikipedia pages on Herculine Barbin and her memoir.
- And Wikipedia pages on Prince's cancelled concept album, Camille, "A Mouthful of Birds" (a play that includes Herculine Barbin as a central character), and "The Mystery of Alexina" (1985 French movie about Herculine's life).
- "In Honor of Herculine Barbin: November 8th, Intersex Day of Solidarity & Remembrance" by intersex rights activist and speaker Mx. Anunnaki Ray Marquez.
- Michel Foucault's introduction to the memoirs of Herculine Barbin, published in 1980, by Pantheon.
- Thom also referenced "Herculine Barbin: Being the Recently Discovered Memoirs of a Nineteenth-century French Hermaphrodite," Foucault and Barbin, trans. Richard McDougall, 1980 (New York: Pantheon).
---
You can subscribe to the Mobile Suit Breakdown for free! on fine Podcast services everywhere and on YouTube, follow us on twitter @gundampodcast, check us out at gundampodcast.com, email your questions, comments, and complaints to [email protected]
Mobile Suit Breakdown wouldn't exist without the support of our fans and Patrons! Become a Patron to support the podcast and enjoy bonus episodes, extra out-takes, behind-the-scenes photo and video, MSB gear, and much more!
The intro music is WASP by Misha Dioxin, and the outro is Long Way Home by Spinning Ratio, both licensed under Creative Commons CC BY 4.0 license. Both have been edited for length.
Mobile Suit Breakdown provides critical commentary and is protected by the Fair Use clause of the United States Copyright law. Gundam content is copyright and/or trademark of Sunrise Inc., Bandai, Sotsu Agency, or its original creator. Mobile Suit Breakdown is in no way affiliated with or endorsed by Sunrise, Bandai, Sotsu, or any of their subsidiaries, employees, or associates and makes no claim to own Gundam or any of the copyrights or trademarks related to it.
Copyrighted content used in Mobile Suit Breakdown is used in accordance with the Fair Use clause of the United States Copyright law. Any queries should be directed to [email protected]
Find out more at http://gundampodcast.com