2.44: Strange Bedfellows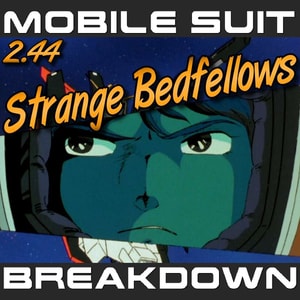 Alas the storm is come again! My best way is to creep under her gwadan! Misery acquaints a man to strange bedfellows!
Show Notes
This week, we recap, review, and provide analysis of Mobile Suit Zeta Gundam (機動戦士Ζガンダム) episode 43 - "Haman's Victory" (ハマーンの嘲笑), discuss our first impressions, and provide commentary and research on the Qubeley (キュベレイ).
---
- How to pronounce Kybele in Greek (plus help from patron Serperoth).
- Wikipedia pages for Cybele/Kybele and Phrygia. - Listings from other online encyclopedias and reference websites (page on theoi.com includes text of associated myths and legends):
https://www.theoi.com/Phrygios/Kybele.html
https://www.britannica.com/topic/Great-Mother-of-the-Gods
https://www.livius.org/articles/religion/cybele/
https://www.ancient.eu/Cybele/
- Reference pages about Attis from Wikipedia and Encyclopedia Britannica.
- Books and articles:
Roller, Lynn E. In Search of God the Mother: the Cult of Anatolian Cybele. University of California Press, 1999. Accessed via Google Scholar.
Borgeaud, Philippe. Mother of the Gods: from Cybele to the Virgin Mary. Johns Hopkins University Press, 2004. Accessed via Google Scholar.
Kramer-Rolls, Dana. "The Emergence of the Goddess Mary: from Late Antiquity to the Middle Ages." Pomegranate: The International Journal of Pagan Studies, vol. 6, no. 1, 2007, doi:10.1558/pome.v6i1.34. Abstract accessed here.
Fear, A. T. "Cybele and Christ." Cybele, Attis and Related Cults: Essays in Memory of Maarten J. Vermaseren, by Maarten J. Vermaseren and Eugene N. Lane, Brill, 1996, pp. 37–50. Preview here.
- The TNN this week includes two pieces of music:
Mistake the Getaway by Kevin MacLeod Link: https://incompetech.filmmusic.io/song/4060-mistake-the-getaway License: http://creativecommons.org/licenses/by/4.0/
and For the Fallen by Kevin MacLeod Link: https://incompetech.filmmusic.io/song/3772-for-the-fallen License: http://creativecommons.org/licenses/by/4.0/
---
You can subscribe to Mobile Suit Breakdown for free! on fine Podcast services everywhere and on YouTube, follow us on twitter @gundampodcast, check us out at gundampodcast.com, email your questions, comments, and complaints to [email protected]
Mobile Suit Breakdown wouldn't exist without the support of our fans and Patrons! You can join our Patreon to support the podcast and enjoy bonus episodes, extra out-takes, behind-the-scenes photo and video, MSB gear, and much more!
The intro music is WASP by Misha Dioxin, and the outro is Long Way Home by Spinning Ratio, both licensed under Creative Commons CC BY 4.0 license. Both have been edited for length.
Mobile Suit Breakdown provides critical commentary and is protected by the Fair Use clause of the United States Copyright law. Gundam content is copyright and/or trademark of Sunrise Inc., Bandai, Sotsu Agency, or its original creator. Mobile Suit Breakdown is in no way affiliated with or endorsed by Sunrise, Bandai, Sotsu, or any of their subsidiaries, employees, or associates and makes no claim to own Gundam or any of the copyrights or trademarks related to it.
Copyrighted content used in Mobile Suit Breakdown is used in accordance with the Fair Use clause of the United States Copyright law. Any queries should be directed to [email protected]
Find out more at http://gundampodcast.com