1.31 - Goodbye Forever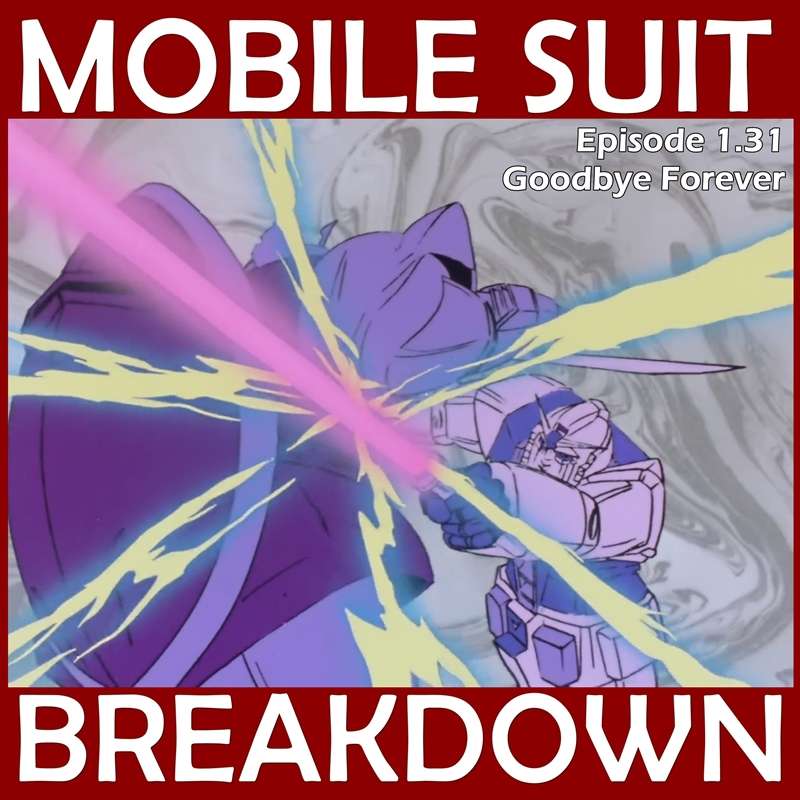 Ep. 38: Newtypes? Newtypes!
Show Notes
This week, we recap, review, and analyze Mobile Suit Gundam episode 38/37 "Char and Sayla" (再会、シャアとセイラ), discuss our first impressions, and provide commentary and research on the Gelgoog's decidedly low-tech sword, the word "kanchou," and gold in WWII.
---
- The warrior monks who favored the naginata and nagamaki were closely affiliated with the mythical warrior demons called Tengu. For more about how the Tengu supposedly taught them the use of their weapons:
Roald Knutsen, "Tengu: The Shamanic and Esoteric Origins of the Japanese Martial Arts"
(Knutsen is a former soldier, and has a menkyo kaiden in iai-jutsu. We weren't able to get our hands on it, but Knutsen's 2004 book "Japanese Spears" is supposed to be the very best English source on the subject).
- A very interesting Sword Forum discussion of the differences between nagamaki and naginata, plus different examples of nagamaki and lots of pictures.
- A photo of a historical nagamaki.
- For an authority who views the nagamaki as more of a short polearm rather than a long sword:
Encyclopedia of Japanese Martial Arts, David A. Hall, Kodansha International; 1 edition (February 22, 2013)
- Wiki articles on the naginata and nagamaki.
- The full list of ranks for the Imperial Japanese Army and Navy (including where "kanchou" fits in).
- Wiki pages on Nazi gold and gold laundering.
- Forbes article on Operation Fish.
- Articles about Canfranc from El Pais (in English): "a hub for Nazis, gold and spies," "Last train for spy central," and "Casablanca in the Pyrenees."
- Two articles about Albert Le Lay (both in Spanish).
- Wiki page on Portugal in WWII.
- Beautiful description of what Lisbon must have been like during the war, especially with regard to the mix of people (by a historical fiction writer).
- From Life Magazine, July 1940. Fascinating look at American attitudes towards dictatorships and neutral countries, prior to the US joining the war:
"Portugal: The War Has Made It Europe's Front Door." Life, 29 July 1940, pp. 65–73.
- Book about Portugal during WWII, with detailed chapters on the economy, Nazi gold and gold laundering, and espionage in Lisbon, among other things:
Lochery, Neill. Lisbon: War in the Shadows of the City of Light, 1939-45. Scribe Publications, 2011.
- The section from Alan Ross' diary (used in the memorial) is printed in:
"Leaves in the storm : a book of diaries / edited with a running commentary by Stefan Schimanski and Henry Treece."
You can find the excerpt here.
- The music in the memorial is "Dancing on the Edge" by Kai Engel.
---
You can subscribe to the Mobile Suit Breakdown for free! on fine Podcast services everywhere and on YouTube, follow us on twitter @gundampodcast, check us out at gundampodcast.com, email your questions, comments, and complaints to [email protected]
Mobile Suit Breakdown wouldn't exist without the support of our fans and Patrons! You can join our Patreon to support the podcast and enjoy bonus episodes, extra out-takes, behind-the-scenes photo and video, MSB gear, and much more!
The intro music is WASP by Misha Dioxin, and the outro is Long Way Home by Spinning Ratio, both licensed under Creative Commons CC BY 4.0 license. Both have been edited for length.
Mobile Suit Breakdown provides critical commentary and is protected by the Fair Use clause of the United States Copyright law. All Gundam content is copyright and/or trademark of Sunrise Inc., Bandai, or its original creator. Mobile Suit Breakdown is in no way affiliated with or endorsed by Sunrise Inc. or Bandai or any of its subsidiaries, employees, or associates and makes no claim to own Gundam or any of the copyrights or trademarks related to it.
Copyrighted content used in Mobile Suit Breakdown is used in accordance with the Fair Use clause of the United States Copyright law. Any queries should be directed to [email protected]
Find out more at http://gundampodcast.com