2.46: The Hammer of Zeon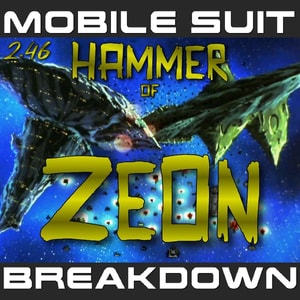 It kills the very good and the very gentle and the very brave impartially.
Show Notes
This week, we recap, review, and provide analysis of Mobile Suit Zeta Gundam (機動戦士Ζガンダム) episode 45 - "Coming from the Heavens" (天から来るもの), discuss our first impressions, and provide commentary and research on the French town of Sedan (and what connection it might have to the Gate of Zedan base!).
---
- Wikipedia pages for the town of Sedan and the castle (or "chateau") there.
- Webpage for the Castle of Sedan itself.
- Famous personages connected to the town: Vauban (military engineer) and Turenne (general).
- Wikipedia pages for The Battle(s) of Sedan (La Marfeé in 1641, 1870, and 1940).
- Wikipedia page for German Unification and German Sedantag holiday.
- Book that discusses media depictions (specifically engravings and illustrations) of news events and the part they played in the construction of national identity:
Martin, Michèle. Images at War: Illustrated Periodicals and Constructed Nations. University of Toronto Press, 2006. Accessed here.
- Two engravings of the Gate of Sedan (I think these are the engraving referenced in Martin's book). Both depict a figure raising the white flag of surrender while standing on the gate, but in the first he is the main figure in the engraving, and the gate is mostly out of frame. In the second, he is a tiny figure with no distinguishable detail, standing atop the massive gate and viewed from a distance. The Gate itself is the main figure.
- The music used in the TNN is:
Prayers by Admiral Bob (c) copyright 2020 Licensed under a Creative Commons Attribution (3.0) license. http://dig.ccmixter.org/files/admiralbob77/61151 Ft: emmrodriguez
One of Them by Kevin MacLeod Link: https://incompetech.filmmusic.io/song/4169-one-of-them License: http://creativecommons.org/licenses/by/4.0/
- The music used in Apolly's tribute is:
Blue Feather by Kevin MacLeod Link: https://incompetech.filmmusic.io/song/3449-blue-feather License: http://creativecommons.org/licenses/by/4.0/
---
You can subscribe to Mobile Suit Breakdown for free! on fine Podcast services everywhere and on YouTube, follow us on twitter @gundampodcast, check us out at gundampodcast.com, email your questions, comments, and complaints to [email protected]
Mobile Suit Breakdown wouldn't exist without the support of our fans and Patrons! You can join our Patreon to support the podcast and enjoy bonus episodes, extra out-takes, behind-the-scenes photo and video, MSB gear, and much more!
The intro music is WASP by Misha Dioxin, and the outro is Long Way Home by Spinning Ratio, both licensed under Creative Commons CC BY 4.0 license. Both have been edited for length.
Mobile Suit Breakdown provides critical commentary and is protected by the Fair Use clause of the United States Copyright law. Gundam content is copyright and/or trademark of Sunrise Inc., Bandai, Sotsu Agency, or its original creator. Mobile Suit Breakdown is in no way affiliated with or endorsed by Sunrise, Bandai, Sotsu, or any of their subsidiaries, employees, or associates and makes no claim to own Gundam or any of the copyrights or trademarks related to it.
Copyrighted content used in Mobile Suit Breakdown is used in accordance with the Fair Use clause of the United States Copyright law. Any queries should be directed to [email protected]
Find out more at http://gundampodcast.com