2.40: No Rest for the Wicked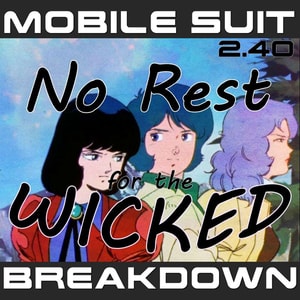 Show Notes
This week, we recap, review, and provide analysis of Mobile Suit Zeta Gundam (機動戦士Ζガンダム) episode 39 - "By the Lake" (湖畔), discuss our first impressions, and provide commentary and research on "fortress" Switzerland and indirect kissing.
---
- Wikipedia pages for the National Redoubt, Swiss armed forces, and "defense in depth."
- Probably the first time article I ever read (way back in the day!) about Switzerland's national defense:
Kolenberg, Steve. "The 5 Most Secretly Badass Countries." Cracked.com, Cracked.com, 20 Feb. 2013, www.cracked.com/article20301the-5-most-secretly-badass-countries.html.
- Article referencing the John McPhee book, La Place de la Concorde Suisse (with several quotations):
Manaugh, Geoff. "Various Forms of Lithic Disguise." BLDGBLOG, BLDGBLOG, 16 Dec. 2015, www.bldgblog.com/2012/06/various-forms-of-lithic-disguise/.
- Another article discussing the self-sabotage, hidden facilities, and disguised facilities that are part of Switzerland's defenses (includes photographs):
Kohlstedt, Kurt. "Self Sabotage: The Strange Swiss History of Rigging Vital Infrastructure to Explode." 99% Invisible, 1 Nov. 2019, 99percentinvisible.org/article/designed-for-demolition-why-the-swiss-rigged-critical-infrastructure-to-explode/.
- Background articles for indirect kissing:
Chris Kincaid, A Look at Gender Expectations in Japanese Society, for Japan Powered (July 7, 2013). Available at https://www.japanpowered.com/japan-culture/a-look-at-gender-expectations-in-japanese-society
Chris Kincaid, Dating and Marriage in Japan, for Japan Powered (July 27, 2014). Available at https://www.japanpowered.com/japan-culture/dating-marriage-japan.
- Wikipedia page on group dating, including a brief blurb about gokon dating. - Stories from the darker side of gokon dating:
Cara Clegg, The ugly truth of 'gokon,' Japan's group blind dates, for Japan Today (Sep. 29, 2014). Available at https://japantoday.com/category/features/lifestyle/the-ugly-truth-of-gokon-japans-group-blind-dates
- Jisho.org entry for indirect kiss/間接キス.
- Warning - the following sources were chosen because they give insight into the way people think and talk about "indirect kisses". They should not be relied upon for the truth of their content, and MSB does not endorse the sources or the statements made thereon:
Jeff, 5 seduction techniques used by Japanese women, for Enicee.com. Available at http://enicee.com/en/article/5-seduction-techniques-used-by-Japanese-women. Enicee.com is a dating service aimed at cross-cultural dating and with a specific focus on English-speaking westerners who want to date Japanese people.
"Does he care? The 9 patterns of male psychology that can be understood by his reaction to an indirect kiss!" from Japanese-language relationship advice website Sugoren. March 24, 2020. Available at https://news.goo.ne.jp/article/sugoren/life/sugoren-1489216486005.html
"The 13 psychological types of men who kiss indirectly! How to tell if his pulse races for you!" from Japanse-language list-making site Rank Best. August 19, 2019. Available at https://ranking-best.net/3850.
"What are the hidden feelings of a man when he kisses you indirectly?" from Japanese-language romantic advice website Koimemo. October 23, 2019. Available at https://koimemo.com/article/16102.
- Our TNN Interns:
Crimson
Lieutenant Birdman
Kurt
Hobbs 5226
Sean "Quantum Nottle"
Thunderokami
Paragon
Renato
Murf
---
You can subscribe to Mobile Suit Breakdown for free! on fine Podcast services everywhere and on YouTube, follow us on twitter @gundampodcast, check us out at gundampodcast.com, email your questions, comments, and complaints to [email protected]
Mobile Suit Breakdown wouldn't exist without the support of our fans and Patrons! You can join our Patreon to support the podcast and enjoy bonus episodes, extra out-takes, behind-the-scenes photo and video, MSB gear, and much more!
The intro music is WASP by Misha Dioxin, and the outro is Long Way Home by Spinning Ratio, both licensed under Creative Commons CC BY 4.0 license. Both have been edited for length.
Mobile Suit Breakdown provides critical commentary and is protected by the Fair Use clause of the United States Copyright law. Gundam content is copyright and/or trademark of Sunrise Inc., Bandai, Sotsu Agency, or its original creator. Mobile Suit Breakdown is in no way affiliated with or endorsed by Sunrise, Bandai, Sotsu, or any of their subsidiaries, employees, or associates and makes no claim to own Gundam or any of the copyrights or trademarks related to it.
Copyrighted content used in Mobile Suit Breakdown is used in accordance with the Fair Use clause of the United States Copyright law. Any queries should be directed to [email protected]
Find out more at http://gundampodcast.com