2.38: Human Sacrifice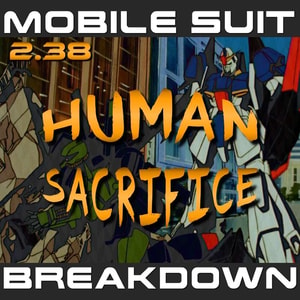 I cried Power! (Power, Lord!)
Show Notes
This week, we recap, review, and provide analysis of Mobile Suit Zeta Gundam (機動戦士Ζガンダム) episode 37 - "The Day of Dakar" (ダカールの日), discuss our first impressions, and provide commentary and research on the city of Dakar, Senegal, and broadcast signal intrusion.
---
- Relevant Wikipedia articles for background on Dakar, Cap Vert, and French West Africa. Senegal and the French conquest of Senegal, the Emirate of Trarza, and Waalo. Louis Faidherbe, gum arabic, the Mali Federation, and the French Community (yes, there's a lot of background!).
- Article about Dakar's role in the French Empire as early as 1848:
Bruce Vandervort, Senegal in 1848, Encyclopedia of 1848 Revolutions. Compiled by James Chastain of Ohio University. Available at https://www.ohio.edu/chastain/rz/senegal.htm
- An exceedingly detailed investigation of the history of the acacia gum trade:
van Dalen, Dorrit. "Gum Arabic. The Golden Tears of the Acacia Tree." Leiden UP (2019).
- Article regarding Faidherbe's time as governor:
Barrows, Leland C. "Faidherbe and Senegal: A Critical Discussion." African Studies Review, vol. 19, no. 1, 1976, pp. 95–117. JSTOR, www.jstor.org/stable/523854. Accessed 19 Mar. 2020.
- News clip from 2018 regarding a dispute over a statue of Faidherbe in Saint-Louis.
- A brief overview of the history of Dakar city:
Caelen Anacker, Dakar, Senegal (1857- ). For blackpast.org (June 10, 2010). Retrieved from https://www.blackpast.org/global-african-history/dakar-senegal-1857/
- Article on the segregated urban planning of Dakar:
Nelson, David. "Defining the Urban: The Construction of French-Dominated Colonial Dakar, 1857-1940." Historical Reflections / Réflexions Historiques, vol. 33, no. 2, 2007, pp. 225–255. JSTOR, www.jstor.org/stable/41299411. Accessed 19 Mar. 2020.
- Article about the racial politics of French West Africa and the treatment of originaires:
Jones, Hilary. "Rethinking Politics in the Colony: the Métis of Senegal and Urban Politics in the Late Nineteenth and Early Twentieth Century." The Journal of African History, vol. 53, no. 3, 2012, pp. 325–344., www.jstor.org/stable/23353679. Accessed 19 Mar. 2020.
- Contemporary report regarding the Mali Federation's appeal for independence and formation, drafted in the brief period before it disintegrated:
U.S. Bureau of Foreign Commerce, basic data on the economy of the West African States of the French Community, from World Trade Information Service, Part 1. U.S. Dept. of Commerce (1960).
- Wikipedia pages for broadcast signal intrusion generally, as well as specific pages for the Southern Television broadcast interruption, the Captain Midnight broadcast signal intrusion, and the Max Headroom signal hijacking.
- Dictionary page for the Japanese term for broadcast signal intrusion (電波ジャック).
- About the Max Headroom character.
- Thirty years later - articles revisiting the Max Headroom incident for the 30-year anniversary, from Ars Technica and Vice.
- In depth article about the investigation into the Max Headroom incident and the efforts to find the hackers responsible.
- Japanese Wikipedia page for broadcast signal intrusion (lists famous instances in Japan, which are not listed in the English-language page).
- Wikipedia pages for the Japan Revolutionary Community League National Committee (Middle Core Faction) and the Japan Revolutionary Community League National Committee (Revolutionary Marxist Faction).
- Japanese Wikipedia pages for Hasegawa Hidenori (長谷川英憲) and the Suginami Disaster Warning System Broadcast Signal Intrusion Incident (杉並区防災無線電波ジャック事件). And a weblio page about the same incident.
- Japanese page covering many famous broadcast signal intrusion incidents in history, and a weblio page that does the same.
- Japanese Wikipedia page for the Mizumoto Incident.
- The music used in the TNN was Prayers, by Admiral Bob used under a CC BY license.
---
You can subscribe to the Mobile Suit Breakdown for free! on fine Podcast services everywhere and on YouTube, follow us on twitter @gundampodcast, check us out at gundampodcast.com, email your questions, comments, and complaints to [email protected]
Mobile Suit Breakdown wouldn't exist without the support of our fans and Patrons! You can join our Patreon to support the podcast and enjoy bonus episodes, extra out-takes, behind-the-scenes photo and video, MSB gear, and much more!
The intro music is WASP by Misha Dioxin, and the outro is Long Way Home by Spinning Ratio, both licensed under Creative Commons CC BY 4.0 license. Both have been edited for length.
Mobile Suit Breakdown provides critical commentary and is protected by the Fair Use clause of the United States Copyright law. Gundam content is copyright and/or trademark of Sunrise Inc., Bandai, Sotsu Agency, or its original creator. Mobile Suit Breakdown is in no way affiliated with or endorsed by Sunrise, Bandai, Sotsu, or any of their subsidiaries, employees, or associates and makes no claim to own Gundam or any of the copyrights or trademarks related to it.
Copyrighted content used in Mobile Suit Breakdown is used in accordance with the Fair Use clause of the United States Copyright law. Any queries should be directed to [email protected]
Find out more at http://gundampodcast.com