2.37: The Devil's Machine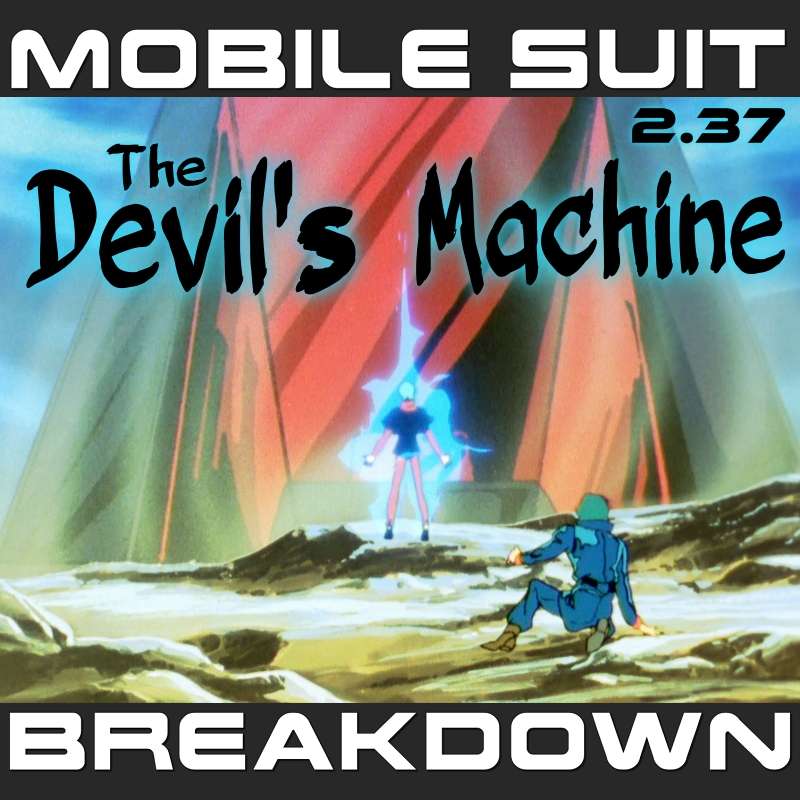 So I ran to the Devil; he was waitin'
Show Notes
This week, we recap, review, and analyze Mobile Suit Zeta Gundam (機動戦士Ζガンダム) episode 36 - "Forever Four" (永遠のフォウ), discuss our first impressions, and provide commentary and research on the Tanzania, Mt. Kilimanjaro, and a language note about the name "Bidan."
---
- Jisho.org online Japanese dictionary search results for "Bidan."
- Wikipedia pages for background the history of Tanzania, the "scramble for Africa," German East Africa, League of Nations mandates, and Julius Nyerere.
- Britannica biography of Julius Nyerere.
- Notes on the origin of the name Kilimanjaro:
J. A. Hutchinson, The Meaning of Kilimanjaro. Tanganyika Notes and Records (1965). Available at https://web.archive.org/web/20071006111206/http://www.ntz.info/gen/b00769.html
- A brief biography of the German military commander in German East Africa during World War I: Paul von Lettow-Vorbeck.
- A brief history of Tanzania's road to independence from South African History Online.
- A more detailed political history of the rise of Tanzanian nationalism in the mid-20th century, from the African Democracy Encyclopaedia Project.
- Vatican News profile on Julius Nyerere, including mention of a campaign to beatify him:
Paul Samusumo, The Legacy of Mwalimu Julius Kambarage Nyerere. Available at https://www.vaticannews.va/en/africa/news/2019-11/the-legacy-of-mwalimu-julius-kambarage-nyerere.html
- An alternative take on Nyerere from marxists.org:
Biography : Julius Kambarage Nyerere, available at https://www.marxists.org/subject/africa/nyerere/biography.htm.
- Nyerere's social policies:
Andrew M. Ivaska, 'Anti-Mini Militants Meet Modern Misses': Urban Style, Gender and the Politics of 'National Culture' in 1960s Dar es Salaam, Tanzania. Gender & History, Vol. 14 No. 3 November 2002, pp. 584-607.
Michael Drewett and Martin Cloonan, Popular Music Censorship in Africa. Ashgate (2006).
- Wikipedia pages for Diogenes and the Nile.
- A lot of the sources available in English that discuss Kilimanjaro, as well as myths, legends, and beliefs about the peaks, are from trekking companies that organize climbing expeditions (or first-hand accounts by English speakers who have done a trek and heard the stories from locals they met). One such trekking company, Thomson Treks, was the source for some of my information on Kilimanjaro as the suspected source of the Nile, the story of how Kibo and Mawenzi came apart, the mythical elephant graveyard of Kilimanjaro, and the myth that the top of Kilimanjaro is where the gates to the afterlife/underworld are located.
- Article in a geography periodical discussing the ongoing debate over the "source" of the Nile.
- Book that recounts the story of how the mountains came to be. Content Warning: while this book offers a good re-telling of story, the other parts of the book that I read (not very much, but still) seemed racist and dismissive towards the Chagga people:
Dundas, Charles. Kilimanjaro and Its People: a History of the Wachagga, Their Laws, Customs and Legends, Together with Some Account of the Highest Mountain in Africa. Routledge, 1968. Access it on Google Books here.
- Another trekking company (Secret Compass) overview of the Kilimanjaro region. Page briefly covers local folklore, including the creation of the mountain, the scarring of Mawenzi, the elephant graveyard, and the Wakonyingo.
- Travelogue-style book, with a longer and more detailed version of the story of how Mawenzi became so scarred:
Newsham, Brad. Take Me with You: a Round-the-World Journey to Invite a Stranger Home. Bantam, 2002. Access it on Google books here.
- The music used in the TNN is "New York City (instrumental)" by spinningmerkaba. Available at http://dig.ccmixter.org/files/jlbrock44/30389. The music used in the tribute to Four Murasame is Rains Will Fall by Kevin MacLeod (https://incompetech.filmmusic.io/song/4262-rains-will-fall) and Sovereign Quarter by Kevin MacLeod (https://incompetech.filmmusic.io/song/4396-sovereign-quarter). All three songs are licensed pursuant to a Creative Commons 4.0 Attribution License: http://creativecommons.org/licenses/by/4.0/
- The translation of Ōta Dokān's death poem can be found in _Japanese Death Poems: Written by Zen Monks and Haiku Poets on the Verge of Death_. Trans. Yoel Hoffmann. Charles E. Tuttle (Tokyo 1986).
---
You can subscribe to the Mobile Suit Breakdown for free! on fine Podcast services everywhere and on YouTube, follow us on twitter @gundampodcast, check us out at gundampodcast.com, email your questions, comments, and complaints to [email protected]
Mobile Suit Breakdown wouldn't exist without the support of our fans and Patrons! You can join our Patreon to support the podcast and enjoy bonus episodes, extra out-takes, behind-the-scenes photo and video, MSB gear, and much more!
The intro music is WASP by Misha Dioxin, and the outro is Long Way Home by Spinning Ratio, both licensed under Creative Commons CC BY 4.0 license. Both have been edited for length.
Mobile Suit Breakdown provides critical commentary and is protected by the Fair Use clause of the United States Copyright law. Gundam content is copyright and/or trademark of Sunrise Inc., Bandai, Sotsu Agency, or its original creator. Mobile Suit Breakdown is in no way affiliated with or endorsed by Sunrise, Bandai, Sotsu, or any of their subsidiaries, employees, or associates and makes no claim to own Gundam or any of the copyrights or trademarks related to it.
Copyrighted content used in Mobile Suit Breakdown is used in accordance with the Fair Use clause of the United States Copyright law. Any queries should be directed to [email protected]
Find out more at http://gundampodcast.com