2.26: All Of This Has Happened Before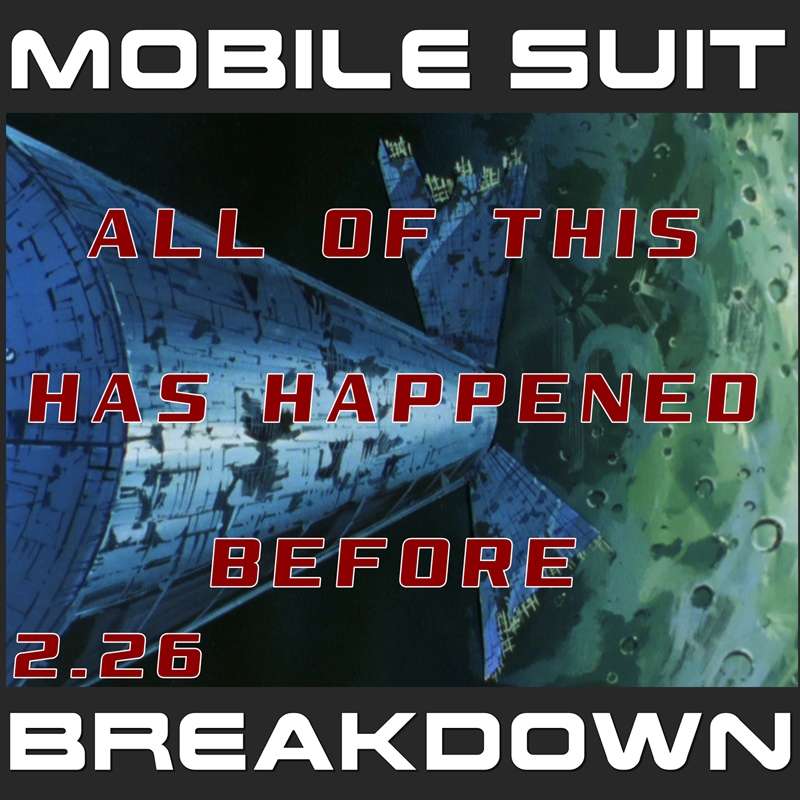 Titans Hate Him: Discover This One Weird Trick To Totally Stop AEUG
Show Notes
This week, we recap, review, and analyze Mobile Suit Zeta Gundam (機動戦士Ζガンダム) episode 25 - Colony Drop (コロニーが落ちる日), discuss our first impressions, and provide commentary and research on women at work in Japan of the 1980s, nuclear pulse engines, seiza, and fortune-telling machines.
---
- Paper about labor force participation of Japanese women:
Shimada, Haruo, and Yoshio Higuchi. "An Analysis of Trends in Female Labor Force Participation in Japan." Journal of Labor Economics, vol. 3, no. 1, 1985, pp. S355–S374. JSTOR, www.jstor.org/stable/2535011.
- Wikipedia page on marriage in Japan.
- Wikipedia page for Japan's Equal Employment Opportunity Law.
- OECD paper on gender pay gap for full-time workers in member countries.
- Japan Times opinion article about the ongoing discrimination Japanese women face in the workforce.
- Article from Human Rights Watch about workplace harassment in Japan.
- Article from Nikkei Asian Review on the sexual harassment of job-seekers.
- CNN article covering a Japanese survey about overwork, office culture, and mental health.
- Daily Beast article about recent (2018) sexual harassment and sexual discrimination scandals in Japan.
*- Unseen Japan translation of recent HuffPo Japan article about harassment during job-seeking.
- Wikipedia article on the JSDF (Japan Self-Defense Force).
- Japan Times articles about women in the JSDF.
- Graph of mean age at first marriage in Japan from 1955 to 2018, by gender.
- Trends of mean age at first birth in Poland, Japan and Sweden.
- An article with good statistics on dating, marriage, and childbearing in Japan, but with positions and conclusions I mostly disagree with, by Akihiko Kato, a Professor in the School of Political Science and Economics at Meiji University.
- Huffpo article on sexist expressions in languages other than English, including "Christmas Cake."
- New York Times article about the increasing number of Japanese women choosing to stay single (also mentions "Christmas Cake").
- A comprehensive paper on the early history of Nuclear Pulse Propulsion, with diagrams:
G.R. Schmidt, J.A. Bonometti, and P.J. Morton of NASA Marshall Space Flight Center, Huntsville Alabama. Nuclear Pulse Propulsion - Orion and Beyond. Presented at the 36th AIAA/ASME/SAE/ASEE Joint Propulsion Conference & Exhibit, July 2000, Huntsville, Alabama. Available at https://ntrs.nasa.gov/archive/nasa/casi.ntrs.nasa.gov/20000096503.pdf
- An article including information on newer ideas for nuclear pulse propulsion:
Stan Tacket. Nuclear Pulse Propulsion: Gateway to the Stars. March 27, 2013. Available at http://ansnuclearcafe.org/2013/03/27/nuclear-pulse-propulsion-gateway-to-the-stars/
- A declassified report from Los Alamos on nuclear pulse propulsion.
Balcomb, Booth, Robinson, Cotter, Springer, Hedstrom, Watson. Nuclear Pulsed Space Propulsion Systems. Los Alamos Scientific Laboratory of the University of California, United States Atomic Energy Commission. 1970.
- Background on Freeman Dyson, Stanislaw Ulam, nuclear pulse propulsion, and Project Orion.
- Video footage from a 1950s era small scale test of the Project Orion concept.
- Wikipedia page on seiza.
- Teacher forces 96 students to kneel for 20 minutes as punishment for being late.
- Other sources on seiza as punishment:
DeCoker, Gary, and Christopher Bjork. Japanese Education in an Era of Globalization: Culture, Politics, and Equity. Teachers College Press, 2013.
LeTendre, Gerald K., and Rebecca Erwin Fukuzawa. Intense Years: How Japanese Adolescents Balance School, Family and Friends. Routledge, 2016.
- Japan Times article about upcoming changes to law regarding child abuse, including seiza in a list of unacceptable physical punishments.
- A brief rundown of some of the most famous fortune telling machines, including the Ask Swami that was "ubiquitous" in 1950s diners.
- The Twilight Zone episode with the fortune telling machine and a comparison of the Mystic Seer from the episode with the Ask Swami.
- Background on o-mikuji fortunes in English and in Japanese.
- Some more readable articles about the practice, with pictures.
- An article talking about the o-mikuji vending machines.
- Wikimedia's collection of pictures of o-mikuji vending machines.
- The roulette wheel omikuji vending machine, and an article about them with pictures that show one on a table in a restaurant.
- Tofugu article about Japan's coffee culture that mentions the 1980s coffee boom.
---
You can subscribe to the Mobile Suit Breakdown for free! on fine Podcast services everywhere and on YouTube, follow us on twitter @gundampodcast, check us out at gundampodcast.com, email your questions, comments, and complaints to [email protected]
Mobile Suit Breakdown wouldn't exist without the support of our fans and Patrons! You can join our Patreon to support the podcast and enjoy bonus episodes, extra out-takes, behind-the-scenes photo and video, MSB gear, and much more!
The intro music is WASP by Misha Dioxin, and the outro is Long Way Home by Spinning Ratio, both licensed under Creative Commons CC BY 4.0 license. Both have been edited for length.
Mobile Suit Breakdown provides critical commentary and is protected by the Fair Use clause of the United States Copyright law. Gundam content is copyright and/or trademark of Sunrise Inc., Bandai, Sotsu Agency, or its original creator. Mobile Suit Breakdown is in no way affiliated with or endorsed by Sunrise, Bandai, Sotsu, or any of their subsidiaries, employees, or associates and makes no claim to own Gundam or any of the copyrights or trademarks related to it.
Copyrighted content used in Mobile Suit Breakdown is used in accordance with the Fair Use clause of the United States Copyright law. Any queries should be directed to [email protected]
Find out more at http://gundampodcast.com