1.30 - The Assassination of M'Quve by the Esper Amuro Ray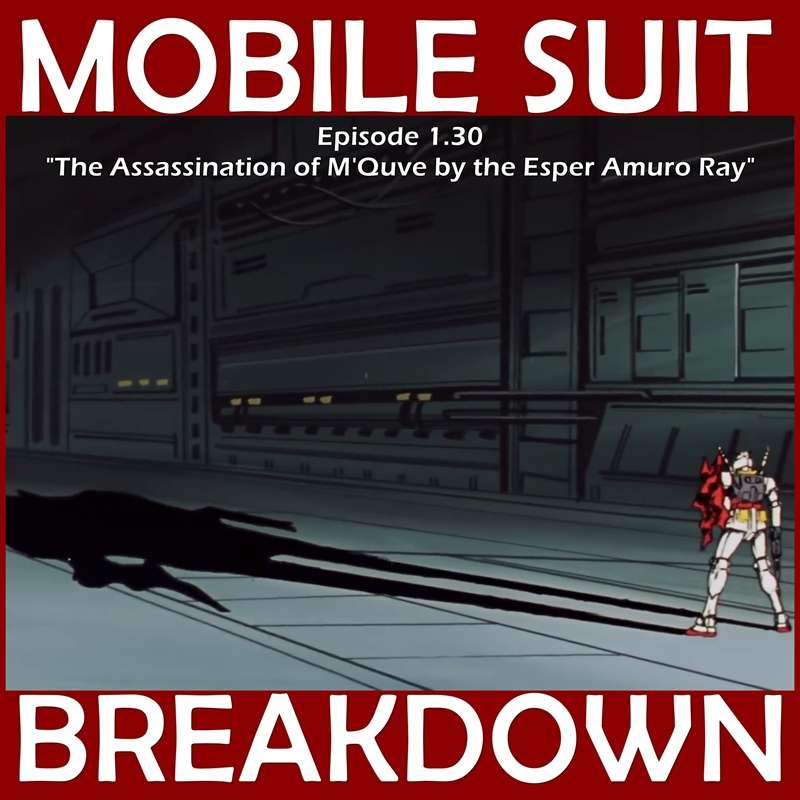 Ep. 37: Podcast and Livestock
Show Notes
This week, we recap, review, and analyze Mobile Suit Gundam episode 37/36 "Duel in Texas" (テキサスの攻防), discuss our first impressions, and provide commentary and research on the early Classical Greek armor that may have inspired the design of the Gyan, Westerns in Japan, and... dueling in Texas.
Special Guests this week: Sean Michael Chin and Wen Wang.
---
- Reddit /r/AskHistorians thread on the linothorax.
- Ancient Chinese paper armor.
- Linothorax reconstruction project and a New Yorker article about the reconstruction project.
- How did Phalanxes function in battle?
- Articles on Hoplite warfare:
Krentz, Peter. "The Nature of Hoplite Battle." Classical Antiquity, vol. 4, no. 1, 1985, pp. 50–61. JSTOR, www.jstor.org/stable/25010823.
VAN WEES, HANS. "The Arms, Armor, and Iconography of Early Greek Hoplite Warfare." Men of Bronze: Hoplite Warfare in Ancient Greece, edited by GREGORY F. VIGGIANO and DONALD KAGAN, Princeton University Press, 2013, pp. 57–73. JSTOR, www.jstor.org/stable/j.ctt2855dr.8.
- IMDB page and description from the Japan Society of Daisogen no Watadori / Plains Wanderer (1960).
- The interview with Seijun Suzuki, director of Shottogan no Otoko / Sandanju no Otoko / Man with a Shotgun (1961), is from this book:
Desjardins, Chris. Outlaw Masters of Japanese Film. I.B. Tauris, 2005.
- IMDB page for Koya no Toseinin (1968).
- An article from an Australian magazine discuss the filming of Koya no Toseinin in Australia, including interviews with the lead actor and some of the production staff:
"DODGE CITY, Goonoo Goonoo-style" The Australian Women's Weekly (1933 - 1982) 15 May 1968: 4. Web. 20 Mar 2019 http://nla.gov.au/nla.news-article48531687.
- The book that introduced me to the term "Eastern Westerns," as well as their prevalence:
Teo, Stephen. Eastern Westerns: Film and Genre Outside and inside Hollywood. Routledge, 2017.
- Texas State Historical Association article on dueling.
- Dueling in Uruguay - 1990 article about a duel that almost happened.
- Collection of Spanish language articles about dueling in Uruguay, including its ban in 1992 and calls to reinstate it.
- Uruguay's Ex-President wants to reinstate dueling.
- The poem in this week's memorial is Su Shi's First Ode on the Red Cliff. This link has the poem in the original Chinese and the English translation, with calligraphy.
---
You can subscribe to the Mobile Suit Breakdown for free! on fine Podcast services everywhere and on YouTube, follow us on twitter @gundampodcast, check us out at gundampodcast.com, email your questions, comments, and complaints to [email protected]
Mobile Suit Breakdown wouldn't exist without the support of our fans and Patrons! You can join our Patreon to support the podcast and enjoy bonus episodes, extra out-takes, behind-the-scenes photo and video, MSB gear, and much more!
The intro music is WASP by Misha Dioxin, and the outro is Long Way Home by Spinning Ratio, both licensed under Creative Commons CC BY 4.0 license. Both have been edited for length.
Mobile Suit Breakdown provides critical commentary and is protected by the Fair Use clause of the United States Copyright law. All Gundam content is copyright and/or trademark of Sunrise Inc., Bandai, or its original creator. Mobile Suit Breakdown is in no way affiliated with or endorsed by Sunrise Inc. or Bandai or any of its subsidiaries, employees, or associates and makes no claim to own Gundam or any of the copyrights or trademarks related to it.
Copyrighted content used in Mobile Suit Breakdown is used in accordance with the Fair Use clause of the United States Copyright law. Any queries should be directed to [email protected]
Find out more at http://gundampodcast.com