In Armstrong's Footsteps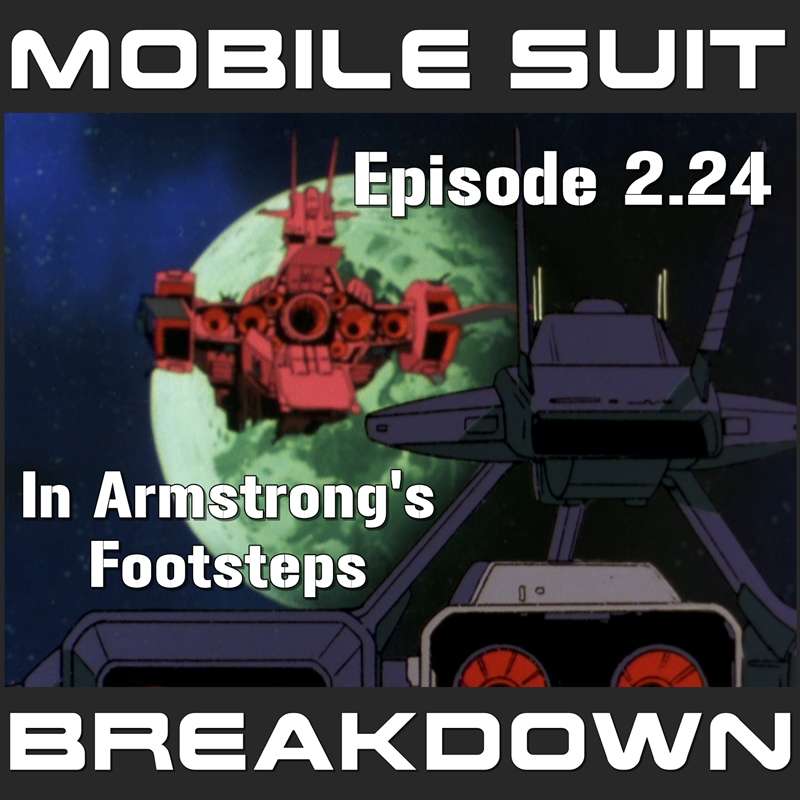 That's One Small Step For Mobile Suit
Show Notes
This week, we recap, review, and analyze Mobile Suit Zeta Gundam (機動戦士Ζガンダム) episode 23 - Moon Attack (ムーン・アタック), discuss our first impressions, and provide commentary and research Japanese youth and religion, home shrines and altars in Japan, and a Gundam names round-up that include Buran Blutarch (ブラン・ブルターク), Mouar Pharoah (マウアー・ファラオ), and Siddeley. Plus, the birds laugh at us (a research dead-end!).
---
- From my attempts to figure out "the birds will laugh at me" - a study of Chinese pottery from a specific kiln, includes examples of pottery with poetry painted on and the "I fear flowers and birds will laugh at me" line.
- Anime News Network page for Andersen Monogatari, a 1968 Japanese animated film based on the life and stories of Hans Christian Andersen.
- Info page and link to watch Ahiru no ko, or The Ugly Duckling, a silent animated short from Japan, released in 1932. This website is amazing, and has lots of early Japanese animated works viewable in their entirety.
- Published study about Japanese young adults and their perception of religion:
Japanese Youth Confronts Religion, Fernando M. Basabe. 1967.
- Wikipedia articles for kamidana and butsudan, as well an article from learnjapanese123.com about them, and one from tofugu.com about butsudan specifically. The Tofugu article has some great historical information on how the practice of keeping a butsudan may have developed.
- Book about ceremony in Japanese home-life, including butsudan, kamidama, and the practices around them:
Jeremy, Michael, et al. Ceremony and Symbolism in the Japanese Home. University of Hawaii Press, 1989.
- Paper about perceptions and use of butsudan in the Japanese diaspora community in the United States, especially among nisei, sansei, and further removed generations:
Iwamura, Jane Naomi. "Altared States: Exploring the Legacy of Japanese American Butsudan Practice." Pacific World, no. 5, ser. 3, 2003, pp. 275–292. 3.
- Wired article and creator webpage for a design project to create smaller and simpler butsudan, reflecting modern and minimalist design.
- On Buran Blutarch (ブラン・ブルターク), Wikipedia pages for the Buran program, the Buran spacecraft, and the Energia (the rocket booster used with the Buran spacecraft).
- NY Times Article about the Soviet Buran program's test flights immediately prior to Zeta's creation:
"SOVIET UNION LOFTS A SHUTTLE MODEL IN AMBITIOUS PLAN" by John Noble Wilford, Dec. 20 1984.
- NBC Article about the KGB stealing shuttle program documents for the Buran program:
"How the Soviets stole a space shuttle" by Robert Windrem, Nov. 4, 1997.
- Brief Roscosmos video about the Buran, in Russian but includes video of the craft launching and its fully automated landing.
- CNN Article about the Buran being left to rot in Kazakhstan:
"Two abandoned Soviet space shuttles left in Kazakh steppe" by Jacopo Prisco, Dec. 21, 2017.
- Detailed timeline of the Buran program.
- Space.com retrospective on the Buran, including its ultimate fate (destroyed when its hangar collapsed).
- Jisho.org entry for Plutarch (プルタルコス).
- Wikipedia page for Plutarch.
- On Mouar Pharaoh (マウアー・ファラオ): Maua (Kenya), Mauá (Brazil), Maúa (Mozambique), the Maua tree, and the Maua cicada.
- Wikipedia and CFA (Cat Fanciers' Association) pages for the Egyptian Mau Cat. And a cute video, "Meet the Egyptian Mau."
- Wikipedia pages for Pharaoh (the title and position), and for Cleopatra (the 1963 movie).
- Liz Taylor/Mouar side-by-side comparison image (created by Thom).
- Wikipedia pages for John Siddeley, the Hawker Siddeley company, and the Hawker Siddeley Harrier (a famous VTOL fighter jet).
- 1975 archive footage from inside a Hawker Siddeley plant.
- Excessively dramatic mini-documentary about the Harrier with a lot of footage of them in action.
- The song for the TNN Marasai advertisement is "Drops of H2O ( The Filtered Water Treatment )" by J.Lang (c) copyright 2012 Licensed under a Creative Commons Attribution (3.0) license. Ft: Airtone.
---
You can subscribe to the Mobile Suit Breakdown for free! on fine Podcast services everywhere and on YouTube, follow us on twitter @gundampodcast, check us out at gundampodcast.com, email your questions, comments, and complaints to [email protected]
Mobile Suit Breakdown wouldn't exist without the support of our fans and Patrons! You can join our Patreon to support the podcast and enjoy bonus episodes, extra out-takes, behind-the-scenes photo and video, MSB gear, and much more!
The intro music is WASP by Misha Dioxin, and the outro is Long Way Home by Spinning Ratio, both licensed under Creative Commons CC BY 4.0 license. Both have been edited for length.
Mobile Suit Breakdown provides critical commentary and is protected by the Fair Use clause of the United States Copyright law. Gundam content is copyright and/or trademark of Sunrise Inc., Bandai, Sotsu Agency, or its original creator. Mobile Suit Breakdown is in no way affiliated with or endorsed by Sunrise, Bandai, Sotsu, or any of their subsidiaries, employees, or associates and makes no claim to own Gundam or any of the copyrights or trademarks related to it.
Copyrighted content used in Mobile Suit Breakdown is used in accordance with the Fair Use clause of the United States Copyright law. Any queries should be directed to [email protected]
Find out more at http://gundampodcast.com