2.2 - Back in Black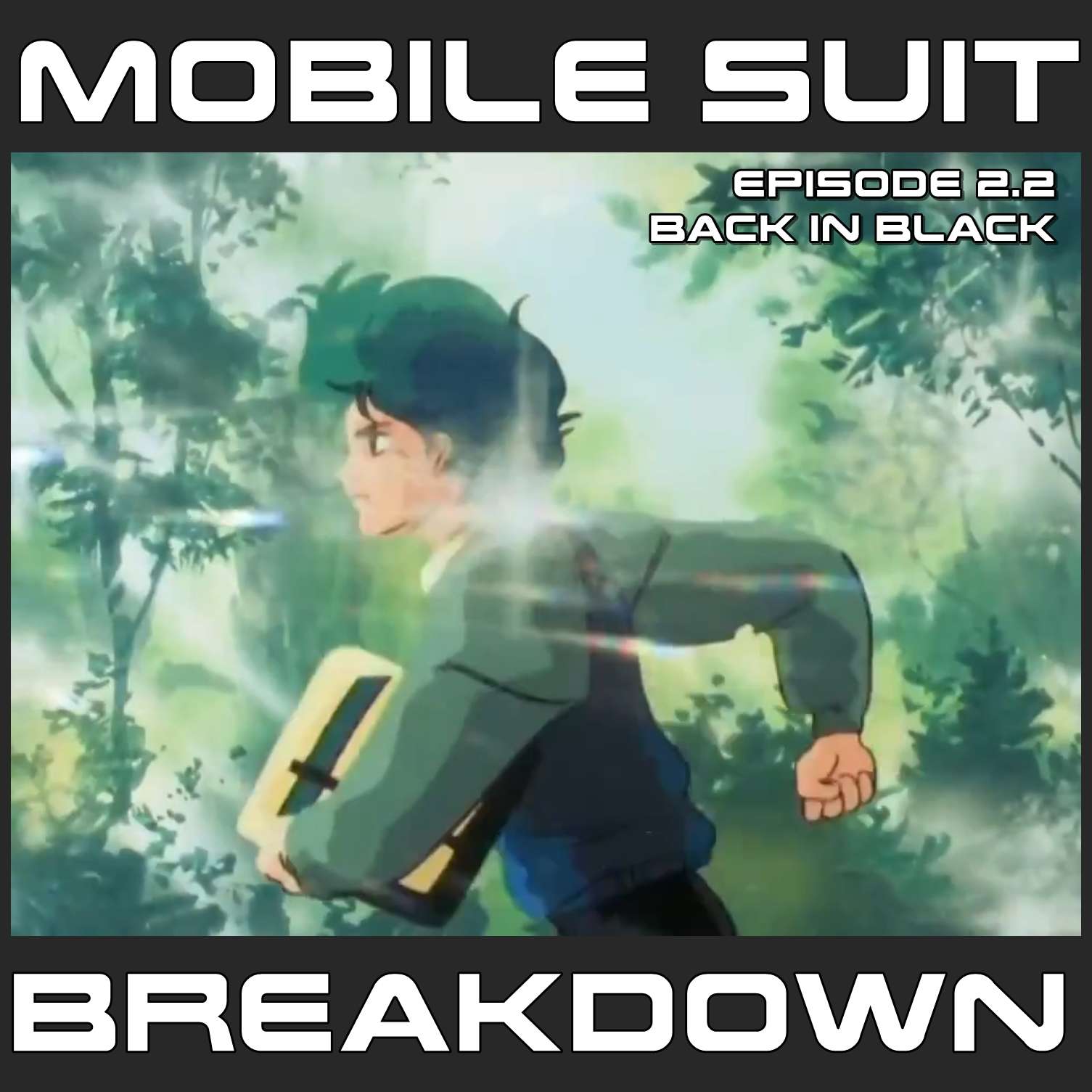 Are you making a podcast about us, even knowing that we're Titans?
Show Notes
This week, we recap, review, and analyze Mobile Suit Zeta Gundam (機動戦士Ζガンダム) episode 1 "The Black Gundam" (黒いガンダム), discuss our first impressions, and provide commentary and research on animation history and technology in the early 80s, and Neil Sedaka and Zeta - transcending copyright.
---
- Fantastic, global history of animation:
Bendazzi, Giannalberto. Cartoons: One Hundred Years of Cinema Animation. Indiana University Press, 2009.
- Wikipedia timeline of computer animation in film and TV, and history of computer animation in the 1970s and 80s.
- Wikipedia pages explaining the difference between computer-assisted animation and computer-generated animation, and the use of computers in traditional animation.
- Description and history of Antics 2d animation software.
- Explanation of vector graphics.
- Paper describing what it was like to program with punchcards.
- TV Tropes page on merchandise driven programs.
- 1950s TV ads for Hasbro's Mr. and Mrs. Potato Head and Mattel's Burp Gun (cap gun).
- How Stuff Works page on the first TV cartoon made for a pre-existing toy - Hot Wheels (this show contributed to later regulation on these kinds of programs).
- Article about the regulation (and de-regulation) of children's TV programming, and an article from the NYTimes, 1988, about Reagan's veto of a congressional measure to re-introduce regulations.
- NHK paper (in English) on history and trends in children's TV programming in Japan and a few international markets.
- Copyright Research and Information Center (a Japanese organization)'s very readable English-language explanation of Japanese copyright.
- COPYRIGHT SYSTEM IN JAPAN, by Japan Copyright Office (JCO), Agency    for    Cultural    Affairs, Government of Japan - published by Copyright Research and Information Center.
- JASRAC's own explanation of its services.
- Explanation of the differences between JASRAC and US Performing Rights Organizations with regard to synchronization rights, written by a Japanese-born, US-based artist and music producer.
- FUNDAMENTAL CONCEPTS in JAPANESE AND AMERICAN COPYRIGHT LAW by Dennis S. Karjala and Keiji Sugiyama.
- Thom's law-school copyright textbook:
Robert A. Gorman and Jane C. Ginsburg, Copyright, 7th Ed., Foundation Press (2006).
- Wikipedia pages on copyright collectives, synchronization rights, and music licensing.
- Wikipedia page for Neil Sedaka, and Gundam fandom-wiki pages for the songs "Z - Toki wo Koete" (Z・刻をこえて / Zeta - Transcending Times), "Hoshi e Ai wo Komete" (水の星へ愛をこめて / From the Aqueous Star with Love), and "Hoshizora no Believe" (星空のBelieve / Believe in the Starry Sky).
---
You can subscribe to the Mobile Suit Breakdown for free! on fine Podcast services everywhere and on YouTube, follow us on twitter @gundampodcast, check us out at gundampodcast.com, email your questions, comments, and complaints to [email protected]
Mobile Suit Breakdown wouldn't exist without the support of our fans and Patrons! You can join our Patreon to support the podcast and enjoy bonus episodes, extra out-takes, behind-the-scenes photo and video, MSB gear, and much more!
The intro music is WASP by Misha Dioxin, and the outro is Long Way Home by Spinning Ratio, both licensed under Creative Commons CC BY 4.0 license. Both have been edited for length.
Mobile Suit Breakdown provides critical commentary and is protected by the Fair Use clause of the United States Copyright law. All Gundam content is copyright and/or trademark of Sunrise Inc., Bandai, or its original creator. Mobile Suit Breakdown is in no way affiliated with or endorsed by Sunrise Inc. or Bandai or any of its subsidiaries, employees, or associates and makes no claim to own Gundam or any of the copyrights or trademarks related to it.
Copyrighted content used in Mobile Suit Breakdown is used in accordance with the Fair Use clause of the United States Copyright law. Any queries should be directed to [email protected]
Find out more at http://gundampodcast.com