2.39: Aid and Comfort to the Enemy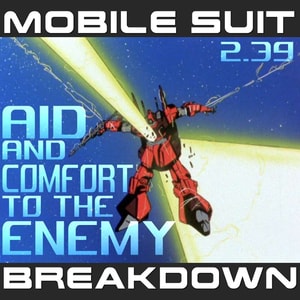 If ever again; a greeting I send to you; short and sweet to the soul I intend
Show Notes
This week, we recap, review, and provide analysis of Mobile Suit Zeta Gundam (機動戦士Ζガンダム) episode 38 - "Reccoa's Shadow" (レコアの気配), discuss our first impressions, and provide commentary and research on the Dijeh mobile suit, and giraffes.
---
- Articles about sail-backed creatures like the Spinosaurus:
Joseph Castro for LiveScience.com, Spinosaurus: The Largest Carnivorous Dinosaur. March 18, 2016. Available at https://www.livescience.com/24120-spinosaurus.html
Reptilis.net, Tall spines and sailed backs: A survey of sailbacks across time. Jun 21, 2014. Available at https://reptilis.net/2014/06/21/tall-spines-and-sailed-backs-a-survey-of-sailbacks-across-time/
The Philippine sailfin lizard: https://en.wikipedia.org/wiki/Philippinesailfinlizard
- Japanese Wikipedia article for the Rick Dias (includes the Dijeh as a subtype).
- Article about the djed legend:
Joshua J. Mark for Ancient.eu, Djed. March 3, 2016. Available at https://www.ancient.eu/Djed/
- Wikipedia and Britannica pages on the qilin/kirin.
- More articles about the mythical Kirin (the page from the Tokyo National Museum also addresses the giraffe connection in Japanese art):
Meyer, Matthew. "Yokai.com." Kirin | Yokai.com, 2020, yokai.com/kirin/.
Bernard, Chelsea. "Fantastic Beasts and Where to Find Them: Japan Edition." Tofugu, Tofugu, 30 Apr. 2014, www.tofugu.com/japan/japanese-mythological-creatures/.
"Mythical Creatures: The Qilin." Tokyo National Museum, Tokyo National Museum, 2012, www.tnm.jp/modules/rfreepage/index.php?id=1462&lang=en.
- Giraffes in China:
Eschner, Kat. "The Peculiar Story of Giraffes in 1400s China." Smithsonian.com, Smithsonian Institution, 21 June 2017, www.smithsonianmag.com/smart-news/peculiar-story-giraffes-medieval-china-180963737/.
Laufer, Berthold. "The Giraffe in History and Art." Anthropology Leaflet, no. 27, 1928, pp. 1–100. JSTOR, www.jstor.org/stable/41444127. Accessed 25 Mar. 2020.
- About the fact that giraffes hum at night:
Allison Eck for PBS.org, Giraffes Hum to Each Other Throughout the Night, And Zookeepers Never Noticed. September 18, 2015. Available at https://www.pbs.org/wgbh/nova/article/giraffes-hum-to-each-other-throughout-the-night-and-zookeepers-never-noticed/
---
You can subscribe to Mobile Suit Breakdown for free! on fine Podcast services everywhere and on YouTube, follow us on twitter @gundampodcast, check us out at gundampodcast.com, email your questions, comments, and complaints to [email protected]
Mobile Suit Breakdown wouldn't exist without the support of our fans and Patrons! You can join our Patreon to support the podcast and enjoy bonus episodes, extra out-takes, behind-the-scenes photo and video, MSB gear, and much more!
The intro music is WASP by Misha Dioxin, and the outro is Long Way Home by Spinning Ratio, both licensed under Creative Commons CC BY 4.0 license. Both have been edited for length.
Mobile Suit Breakdown provides critical commentary and is protected by the Fair Use clause of the United States Copyright law. Gundam content is copyright and/or trademark of Sunrise Inc., Bandai, Sotsu Agency, or its original creator. Mobile Suit Breakdown is in no way affiliated with or endorsed by Sunrise, Bandai, Sotsu, or any of their subsidiaries, employees, or associates and makes no claim to own Gundam or any of the copyrights or trademarks related to it.
Copyrighted content used in Mobile Suit Breakdown is used in accordance with the Fair Use clause of the United States Copyright law. Any queries should be directed to [email protected]
Find out more at http://gundampodcast.com