2.27: There Was A Ship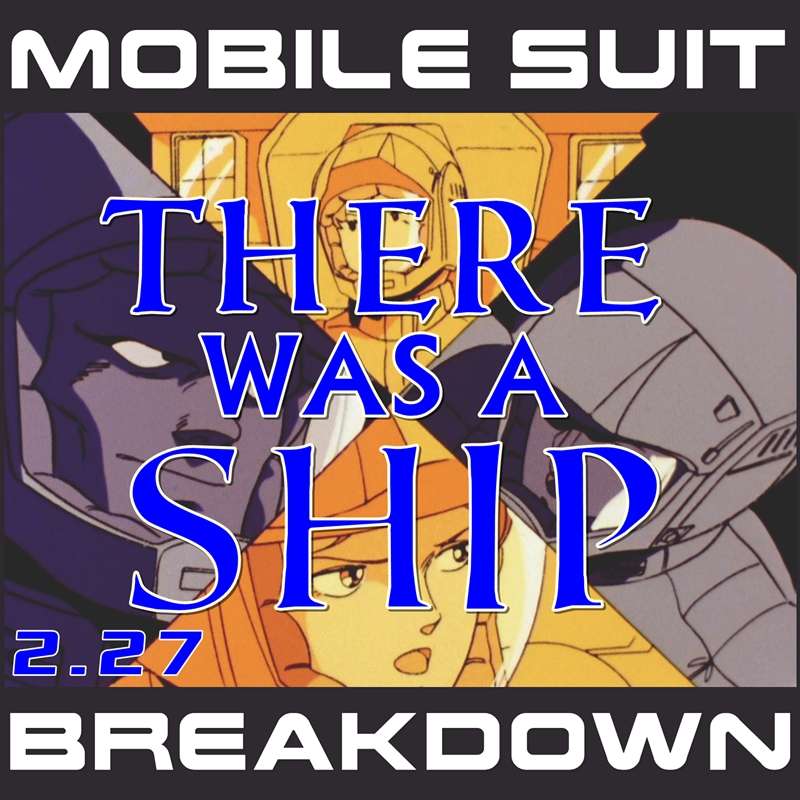 Hold off! unhand me, grey-beard loon!
Show Notes
This week, we recap, review, and analyze Mobile Suit Zeta Gundam (機動戦士Ζガンダム) episode 26 - The Ghost of Zeon (ジオンの亡霊), discuss our first impressions, and provide commentary and research on bridges and the captains who die on them, a hard to translate phrase, and why Jamaican reminds Thom of Rudyard Kipling.
---
- Background on the bridge (nautical), all or nothing armoring, and conning towers..
- Labeled diagram showing parts of a WWII-era battleship.
- Book recounting the final battles of the Japanese battleship Musashi, including descriptions of her bridge and what happened to the officers on the bridge when it came under fire:
Gregory G. Fletcher. Intrepid Aviators: The American Flyers Who Sank Japan's Greatest Battleship, Penguin (2012).
- US Navy history page on the USS Atlanta, including the fate of Admiral Scott (killed on her bridge by friendly fire).
- Book covering the development of the "bridge":
Richard Woodman. The History of the Ship: The Comprehensive Story of Seafaring from the Earliest Times to the Present Day. Bloomsbury (2012).
- Background on the Japanese "pagoda masts."
- Book with a description of the bridge and the conning tower on an Iowa-class battleship:
Carl LaVo. Pushing the Limits: The Remarkable Life and Times of Vice Admiral Allen Rockwell McCann, USN. Naval Institute Press (2013).
- Book with a chapter laying out how bridge design might be re-imagined in the future:
Jan Noyes, Matthew Bransby. People in Control: Human Factors in Control Room Design. IET (2001).
- List of the US generals and flag officers killed during WW2.
- Jisho.org definition for しにぞこない (shinizokonai) - the phrase Yazan uses to describe the derelict Gwazine.
- Background on Rudyard Kipling.
- One of many critical responses to Kipling's "White Man's Burden":
H.T. Johnson, "The Black Man's Burden," available at http://historymatters.gmu.edu/d/5476/
- Archive.org copy of Mark Twain's "To the Person Sitting in Darkness."
- The Great War YouTube channel episode on the Battle of Loos, where John Kipling died.
- Text of the poem Tin Fish.
- Music for the TVN shopping channel:
reNovation by airtone (c) copyright 2019 Licensed under a Creative Commons Attribution (3.0) license. http://dig.ccmixter.org/files/airtone/60674
- "On hold" music from the talkback:
Elevator Music, Part 1 by Jay_You (c) copyright 2018 Licensed under a Creative Commons Attribution (3.0) license. https://freesound.org/s/460432/
- Music during Tin Fish:
Trance is... (Ambient Cinematic Trance) by Whitewolf (c) copyright 2019 Licensed under a Creative Commons Attribution (3.0) license. http://dig.ccmixter.org/files/Whitewolf225/60175 Ft: cyba
---
You can subscribe to the Mobile Suit Breakdown for free! on fine Podcast services everywhere and on YouTube, follow us on twitter @gundampodcast, check us out at gundampodcast.com, email your questions, comments, and complaints to [email protected]
Mobile Suit Breakdown wouldn't exist without the support of our fans and Patrons! You can join our Patreon to support the podcast and enjoy bonus episodes, extra out-takes, behind-the-scenes photo and video, MSB gear, and much more!
The intro music is WASP by Misha Dioxin, and the outro is Long Way Home by Spinning Ratio, both licensed under Creative Commons CC BY 4.0 license. Both have been edited for length.
Mobile Suit Breakdown provides critical commentary and is protected by the Fair Use clause of the United States Copyright law. Gundam content is copyright and/or trademark of Sunrise Inc., Bandai, Sotsu Agency, or its original creator. Mobile Suit Breakdown is in no way affiliated with or endorsed by Sunrise, Bandai, Sotsu, or any of their subsidiaries, employees, or associates and makes no claim to own Gundam or any of the copyrights or trademarks related to it.
Copyrighted content used in Mobile Suit Breakdown is used in accordance with the Fair Use clause of the United States Copyright law. Any queries should be directed to [email protected]
Find out more at http://gundampodcast.com