2.15: It's Been a Long, Long Time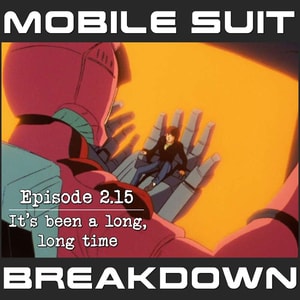 You'll never know how many dreams I dreamed about you, or just how empty they all seemed without you
Show Notes
This week, we recap, review, and analyze Mobile Suit Zeta Gundam (機動戦士Ζガンダム) episode 14 - Amuro Flies Again (アムロ再び), discuss our first impressions, and provide commentary and research on Garuda, Sudori, Audhumla, and Asshimar.
---
- Wikipedia, Ancient History Encyclopedia, and Encyclopedia Britannica pages for Garuda.
- One of the Garuda stories.
- Explanation of the Garuda Upanishad.
- List of things named for Garuda, including the Garud Commando Force, the Garuda Contingent, INS Garuda, and Electronic Attack Squadron 134 (aka "Garudas").
- Wikipedia page for Siduri, the divine alewife from the Gilgamesh myth. And this is the version of the Epic of Gilgamesh we consulted:
The Epic of Gilgamesh, trans. by Andrew George, Penguin Books, UK (1999).
- Sudri on Wikipedia.
- Midgard in the Encyclopedia Britannica (mentions the four dwarves).
- Audhumla licking at Buri, from a 1700s manuscript.
- My Norse Digital Image Repository (for other images of figures mentioned in the story).
- Audhumla on Wikipedia.
- Useful book:
Facts on File, Inc., Norse Mythology A to Z, Infobase Publishing (2009).
- Online copy of the Prose Edda, Snorri Sturluson's collection of Norse myths.
- Online copy of the Poetic Edda, a later-discovered but earlier-composed set of Norse myths that expands on what was in the Prose Edda.
- The Norse Creation myth as told by an expert on the old Norse language.
- The Thai company called Asimar, and the Dungeons & Dragons Aasimar.
- Definitions of あっ/Aa!, しまった/shimatta, and 閉まる/shimaru.
- Stock photo of one version of the ninja costume we talked about last season.
- Wikipedia page on sōhei (warrior monks), and photos of the zukin (hood, kerchief, head covering) that they sometimes wore.
---
You can subscribe to the Mobile Suit Breakdown for free! on fine Podcast services everywhere and on YouTube, follow us on twitter @gundampodcast, check us out at gundampodcast.com, email your questions, comments, and complaints to [email protected]
Mobile Suit Breakdown wouldn't exist without the support of our fans and Patrons! You can join our Patreon to support the podcast and enjoy bonus episodes, extra out-takes, behind-the-scenes photo and video, MSB gear, and much more!
The intro music is WASP by Misha Dioxin, and the outro is Long Way Home by Spinning Ratio, both licensed under Creative Commons CC BY 4.0 license. Both have been edited for length.
Mobile Suit Breakdown provides critical commentary and is protected by the Fair Use clause of the United States Copyright law. Gundam content is copyright and/or trademark of Sunrise Inc., Bandai, Sotsu Agency, or its original creator. Mobile Suit Breakdown is in no way affiliated with or endorsed by Sunrise, Bandai, Sotsu, or any of their subsidiaries, employees, or associates and makes no claim to own Gundam or any of the copyrights or trademarks related to it.
Copyrighted content used in Mobile Suit Breakdown is used in accordance with the Fair Use clause of the United States Copyright law. Any queries should be directed to [email protected]
Find out more at http://gundampodcast.com