2.49: Tabula Rasa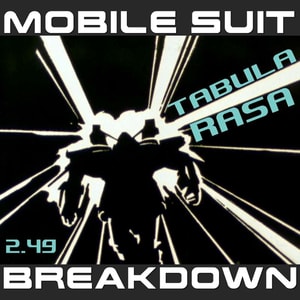 If you live long enough, you start to see the same trauma in different girls.
Show Notes
This week, we recap, review, and provide analysis of Mobile Suit Zeta Gundam (機動戦士Ζガンダム) episode 48 - "The Mirror of Rosamia" (ロザミアの中で), discuss our first impressions, and provide commentary and research on voice actor Gouri Daisuke (郷里 大輔), the voice actor for Bask Om. We also say goodbye to Rosamia Badam.
-
- Wikipedia pages for Gouri Daisuke/郷里大輔, born Nagahori Yoshio/長堀芳夫 (English, and Japanese).
- Gouri Daisuke's IMDB page.
- CNN retrospective on the firebombing of Tokyo, "Operation Meetinghouse":
Brad Lendon and Emiko Jozaku, History's deadliest air raid happened in Tokyo during World War II and you've probably never heard of it, for CNN.com. March 8, 2020.
- Kinnikuman Wiki page for Gouri's first breakthrough role as Robin Mask.
- Archived copy of Yahoo Japan news story about Gouri's death.
- Wikipedia pages for Inoue Kazuhiko/井上和彦 in English and Japanese.
- Inoue Kazuhiko's personal blog post reflecting on Gouri's death and their friendship.
- In the memorial for Rosamia, Nina read excerpts from The Age of Innocence, by Edith Wharton. The novel is public domain, and you can read or download it at Project Gutenberg.
- The song playing during parts of the memorial is Claude Debussy's Première Arabesque, performed by Patrizia Prati. Access the song and the license here.
-
You can subscribe to Mobile Suit Breakdown for free! on fine Podcast services everywhere and on YouTube, follow us on twitter @gundampodcast, check us out at gundampodcast.com, email your questions, comments, and complaints to [email protected]
Mobile Suit Breakdown wouldn't exist without the support of our fans and Patrons! You can join our Patreon to support the podcast and enjoy bonus episodes, extra out-takes, behind-the-scenes photo and video, MSB gear, and much more!
The intro music is WASP by Misha Dioxin, and the outro is Long Way Home by Spinning Ratio, both licensed under Creative Commons CC BY 4.0 license. Both have been edited for length.
Mobile Suit Breakdown provides critical commentary and is protected by the Fair Use clause of the United States Copyright law. Gundam content is copyright and/or trademark of Sunrise Inc., Bandai, Sotsu Agency, or its original creator. Mobile Suit Breakdown is in no way affiliated with or endorsed by Sunrise, Bandai, Sotsu, or any of their subsidiaries, employees, or associates and makes no claim to own Gundam or any of the copyrights or trademarks related to it.
Copyrighted content used in Mobile Suit Breakdown is used in accordance with the Fair Use clause of the United States Copyright law. Any queries should be directed to [email protected]
Find out more at http://gundampodcast.com