2.28: Fatherless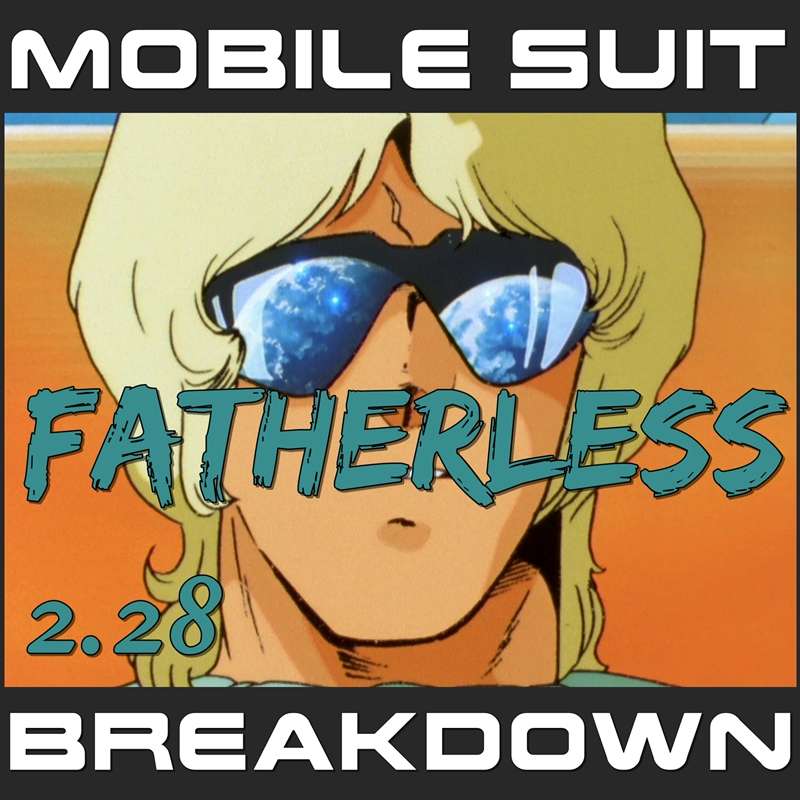 "He will vindicate the fatherless and oppressed, that the men of the earth may strike terror in them no more."
Show Notes
This week, we recap, review, and analyze Mobile Suit Zeta Gundam (機動戦士Ζガンダム) episode 27 - Rendezvous With Char (シャアの帰還), discuss our first impressions, and provide commentary and research on Yazan's glove and Nagano Mamoru (永野護).
---
- A very readable overview of the history of dueling, from The New Yorker.
- Useful books:
John Gideon Millingen, The History of Duelling: Including, Narratives of the Most Remarkable Personal Encounters that Have Taken Place from the Earliest Period to the Present Time, Volume 1. R. Bentley (1841).
Andrew Steinmetz, The Romance of Duelling in All Times and Countries, Volume 1. Chapman and Hall (1868).
John Ferne, The Blazon of Gentrie: : Deuided into two parts. The first named The Glorie of Generositie. The second, Lacyes Nobilitie. Comprehending discourses of Armes and of Gentry. Wherein is treated of the beginning, parts and degrees of Gentlenesse, vvith her lawes: Of the Bearing, and Blazon of Cote-armors: Of the Lawes of Armes, and of combats. John Windet (London 1586). Available at https://archive.org/details/blazonofgentried00fern/page/316
- Georgetown Washington Law School article on the history of dueling as a legal institution:
Jennie C. Meade, The Duel: a look back at a once-legal method of resolving disputes. Available at https://www2.gwu.edu/~magazine/archive/2005_law_fall/docs/feat_duel.html
- Translation of the Lex Burgundionum with commentary from Harvard Law School. From The Burgundian Code (K. F. Drew, trans., 1949; repr. 1972). Available at http://www.law.harvard.edu/faculty/cdonahue/courses/CLH/mats/MAT13CLH.03.pdf
- The 1777 Irish Code Duello.
- Treatise on dueling in Germany:
Kevin McAleer, Dueling: The Cult of Honor in Fin-de-Siècle Germany. Princeton UP (2014).
- Vice article on modern day dueling in German universities (Content Warning: pictures of dueling injuries):
Roc Morin, Fighting for Facial Scars in Germany's Secret Fencing Frats.
- Article comparing different versions of the story of the paladin Orlando/Roland, most famously set forth in Orlando Furioso, with commentary linking the face-thrown gauntlet as a precedent to the practice of throwing down the gauntlet:
Anonymous, On the Early Italian Romances. The Scots Magazine 89/90 (1822).
- Article by Natasha Sheldon, 10 Historical Female Duelists and their Duels.
- Wikipedia pages for Nagano Mamoru (in English and in Japanese).
- Article about Nagano's work on Gundam (retired content) from Gundam blogger Chara Soon.
- Forbes article about Nagano (talks about work on later series, but there's a section heading that warns you, if you're trying to avoid spoilers for later Gundam series).
- Documentary video from the theater releases of the first Gundam movies (Nagano and his future-wife, voice actress Maria Kawamura, attended in Char and Lalah cosplay and are visible in the video).
- Photo of Nagano and Ikuhara cosplaying as Sailor Venus and Sailor Mars.
- The music in this week's TNN is:
In Peace by phasenwandler (c) copyright 2011 Licensed under a Creative Commons Attribution (3.0) license. <http://dig.ccmixter.org/files/phasenwandler/33726 Ft: snowflake>
---
You can subscribe to the Mobile Suit Breakdown for free! on fine Podcast services everywhere and on YouTube, follow us on twitter @gundampodcast, check us out at gundampodcast.com, email your questions, comments, and complaints to [email protected]
Mobile Suit Breakdown wouldn't exist without the support of our fans and Patrons! You can join our Patreon to support the podcast and enjoy bonus episodes, extra out-takes, behind-the-scenes photo and video, MSB gear, and much more!
The intro music is WASP by Misha Dioxin, and the outro is Long Way Home by Spinning Ratio, both licensed under Creative Commons CC BY 4.0 license. Both have been edited for length.
Mobile Suit Breakdown provides critical commentary and is protected by the Fair Use clause of the United States Copyright law. Gundam content is copyright and/or trademark of Sunrise Inc., Bandai, Sotsu Agency, or its original creator. Mobile Suit Breakdown is in no way affiliated with or endorsed by Sunrise, Bandai, Sotsu, or any of their subsidiaries, employees, or associates and makes no claim to own Gundam or any of the copyrights or trademarks related to it.
Copyrighted content used in Mobile Suit Breakdown is used in accordance with the Fair Use clause of the United States Copyright law. Any queries should be directed to [email protected]
Find out more at http://gundampodcast.com